This is Episode 2 of 2 pick Tue! (That's a lot of twos.) Welcome! Its already Tuesday and I cannot believe that. I hope everyone's week is going well. And don't forget to link up at Sweet Sharing Monday! =D This week's picks are pretty awesome, all found while browsing my Google Reader feed. Next week I think I'll pick from Pinterest. Got anything you'd like to share? Drop it in the comments!

Ack! These are just too cute! I've been fascinated with the pinwheel printables I've seen around off and on now and again- but most of the time I didn't think they serves a true purpose. These- however- are just perfect for that 4th of July family get together, or for kids while they're waiting for the fireworks to begin at the park. That doesn't even take into account that they look super fun to make! Yeah I know, I sound like a dork all excited over some pinwheels. But they're free, easy, and so cool!
This is my new favorite use for a sharpie. (I've got a bunch of them.) And Elsie was super nice enough to even wash test it for us! She says it won't survive the dishwasher, which is a bummer. But it survives the hand wash! I've been decorating a lot of mugs since the Martha Stewart multi surface paint came out, but sometimes that's messy, or not opaque, or takes too long. These though, these are super easy out-of-the box. Awesome!
So, I hope you like 2 Pick Tuesday?  Oh! And grab a button to show off!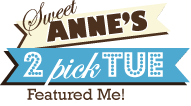 Just copy & paste this code onto your blog!
The following two tabs change content below.
Kayla Domeyer
My name is Kayla and I am a Graphic Designer. That means that I love pretty things, and also that I like to make free printables! I'm so happy that you've stopped by to visit my blog, and I hope you will follow me on
Facebook
,
Twitter
,
Google +
,
Pinterest
or
Instagram
!! (Yeah, and I'm totally addicted to the internet).
Latest posts by Kayla Domeyer (see all)