Hooray for Tuesday! You know, Monday gets such a bad rep, but I think Tuesdays are sometimes worse. You have no "I'm just getting back ito it" excuses, and its still painfully far away from the end of the week. When your boss growls at you and asks where something is- you can't say "I'm sorry, its one of those Tuesdays…" Thankfully I have a legit reason to look forward to Tuesday. That's the day I get to pick two AWESOME posts ad feature them! Hooray!

Um. I love lemons. Not to eat, but to smell. And for YEARS I've been paying through the nose to buy an exfoliating all organic lemon soap. But this is perfect! not only does it look delicious (its all edible but probably does't taste too good) I can almost smell the fresh citrus just looking at it! Amy has the right track too, thinking of it as a gift. I would be moved to tears if someone made this for me. To tears!
Oh Alissa. You are so darn clever! Long story, but I recently broke my phone and ordered 3 replacements. (Yeah, the first 2 were refurbished and arrived scratched and scuffed.) They finally sent me a new phone but ever since I've been terrified of damaging it. But I DO have a clear case floating around! Squee! Now I have no excuses NOT to have a cute phone. ;D
Thank you both so much for being awesome. And for those reading for being AWESOME readers!  Oh! And grab a button to show off!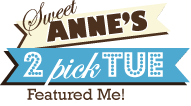 Just copy & paste this code onto your blog!
The following two tabs change content below.
Kayla Domeyer
My name is Kayla and I am a Graphic Designer. That means that I love pretty things, and also that I like to make free printables! I'm so happy that you've stopped by to visit my blog, and I hope you will follow me on
Facebook
,
Twitter
,
Google +
,
Pinterest
or
Instagram
!! (Yeah, and I'm totally addicted to the internet).
Latest posts by Kayla Domeyer (see all)