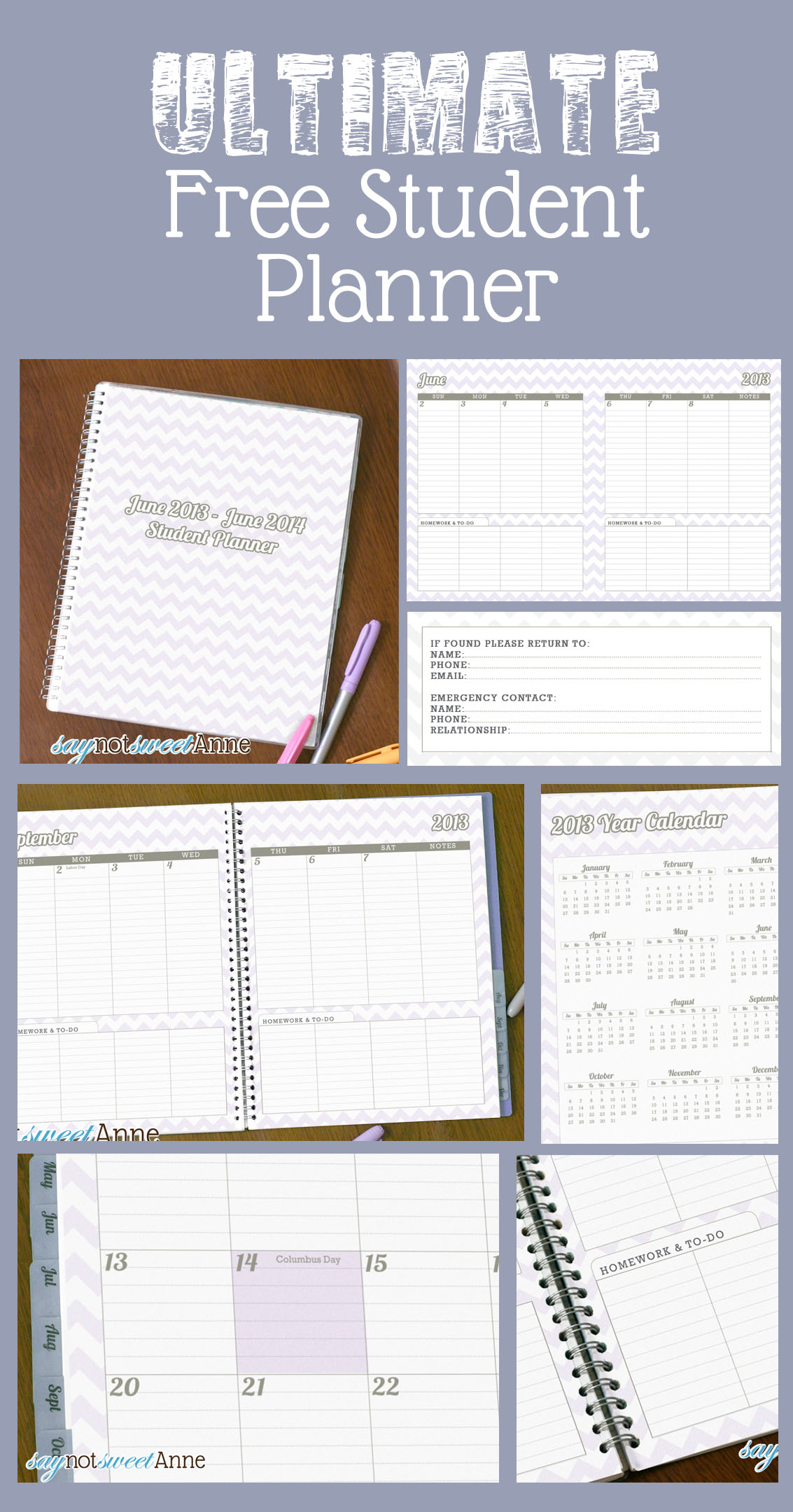 365 days all numbered

Major holidays highlighted

Weekly view with Homework and to-do list

2013 and 2014 year view

Pages for contacts & username storage

Multiple Colors 
Now that graduation time is rounding the corner, I've started to think about student planners. Something that starts and ends in June- so to make it through the school year. Something with a spot for homework and to-do lists. Something with plenty of room to write appointments, class info, usernames and passwords. Out of that thought came this! My June to June Student Planner! Oh and YOU KNOW I'm sharing it with you!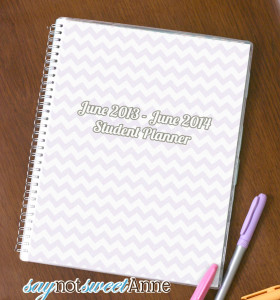 This is my first ever planner with a weekly view and it has been tricky! But, as a graphic designer I can say I honestly love that sort of challenge. And I am SO HAPPY with how this planner turned out!!
I wish I had something like this when I was in college or high school. I truly believe that students are more likely to use something that feels attractive or interesting- not the boring plain Jane ones you see in stores. Also, its important to have something meant for your purpose. I can't STAND fill in the blank planners, or the kind that are so small you can't fit anything!
I know some kids are going digital, but the few that I surveyed still use paper planners. I know for me there is just something about writing it down. Studies have shown that writing helps memory retention too- so that's a bonus!
Since I was thinking of this planner as a graduation gift, I've got two  black and white versions, because those are cheaper to print. I did one without a background because my hubby and I decided that's the manliest way to go. =D I plan on adding more colors if people want them, so feel free to comment if you'd like a color you don't see here!!
What You Need:
Printable File Here.
Printer
Cover and Backing (The shop I went to had clear portfolio covers and solid backs as part of the binding options. You could easily use transparency paper or chipboard or even steal the cover from an old planner!)
Avery 16281 Multi Colored printable tabs. They come with a bunch of colors, I just used the purple.
Copy Shop
How To Make It:
This planner goes together exactly like the Ultimate Blogging Planner so, some of you out there are old pros!
Download the file you want.
Print the file double sided on a nice paper. The cheapo copy stuff will work, but you might see through a bit. There's nothing special about it- its just like printing a double sided presentation booklet!
Take the whole kit and kaboodle to a copy shop. (I went to Staples.) If you like, punch it and put it in a binder and skip to step 6.
Ask the clerk  for a Wire-O binding, or a Twin Loop binding. I won't go into it now, but those are the best notebook bindings (lay flat, no offset…paper geek stuff.)
If you can't get Wire-O or Twin Loop, ask for spiral. Whatever you do, don't get Comb Binding.
Print your months onto some Avery tabs using Lobster as the font. The tabs even come with a handy spacing guide to make sure you place your tabs evenly. All in all this took me about 5 minutes.
Done!! Get to tracking, planning and to-doing!
The following two tabs change content below.
Kayla Domeyer
My name is Kayla and I am a Graphic Designer. That means that I love pretty things, and also that I like to make free printables! I'm so happy that you've stopped by to visit my blog, and I hope you will follow me on
Facebook
,
Twitter
,
Google +
,
Pinterest
or
Instagram
!! (Yeah, and I'm totally addicted to the internet).
Latest posts by Kayla Domeyer (see all)