Yay! I am SO EXCITED to share this first post from new Food Contributor Danielle!! Oh, and it looks delicious! Please take a minute to welcome Danielle, and to visit her blog Busy Mom's Helper, or her Facebook and Twitter Pages!!
[line]
Hey, ya'all! I can't tell you how excited I am to be a new contributor here, and to share some delicious and simple recipes with you each month! Just to introduce myself: I'm a mama of 4 kiddos (girl 7, twin boys 4, boy 2). Life is CRAZY, but I love it! Among the crazy, I try to squeeze in time to work on my passions: Cooking and Crafting. Whether I'm whipping up a batch of oreo cheesecake, gluing together a fun wreath, planning a Frozen party, or remodeling a bedroom, it's with a big smile on my face, and probably a Dr. Pepper and chocolate close by!
One thing you'll learn about me pretty quick (other than my addiction to chocolate) is that I'm a sucker for a good pasta. This Copy-Cat Tuscan Garlic Chicken is no exception, and you can make it up quick, too!
Seriously, this is one of my favorite dishes (among many) from Olive Garden, but I just can't eat out all the time. Between the time, finding a sitter (who wants to drag 4 little kiddos to dinner), plus the cost…ya, just not happening much. So I was thrilled to get a matching Tuscan Garlic Chicken at my own home! Now I can enjoy it any time I get a craving for it!
Ingredients
3/4 cups All-purpose Flour plus 1 tbsp.
1/2 tbsp. Salt
1 tsp. Pepper
1/2 tsp. Basil
1/2 tsp. Oregano
4 Chicken Breasts, Boneless and Skinless
5 tbsp. Olive Oil, divided
1 tbsp. Garlic, minced
1 Red Bell Pepper, chopped
1/2 cup Chicken Broth
1/2 cup Spinach, fresh
1/2 cup Heavy Cream
2 tsp. Cornstarch
1 cup Milk (I used skim, and it worked great)
1 cup Parmesan Cheese, grated
1 ob. Fettuccine (or similar pasta)
Directions
Preheat the oven to 350 Degrees F. Spray or line a baking sheet and set aside.
In a shallow bowl/plate, mix the flour, salt, pepper, basil and oregano. Coat each chicken breast until both sides are well covered.
Heat 3 tbsp. olive oil in a large skillet over medium heat. Once the oil is hot, CAREFULLY put the chicken in the pan and cook each side for 2-3 minutes, or until golden brown. Take caution not to push the chicken around in the skillet or a lot of the coating will fall off.
Carefully place the chicken breasts into the prepared baking sheet and bake for 15 minutes, or until the chicken is cooked completely through. Remove from the oven when done, and tent with foil until ready to serve.
WHILE THE CHICKEN IS COOKING: cook the pasta according to the box directions. Grab another large skillet (or wipe out the one you used for the chicken) and heat a new 2 tbsp olive oil over medium heat.
When the oil in the skillet is hot, saute the garlic and bell pepper for 2-3 minutes.
Add 1 tbsp. Flour and stir constantly for 60 seconds. Add the chicken broth and bring to a low simmer, stirring constantly until slightly thickened, about 3-4 minutes.
Mix the cornstarch and cream into the skillet mixture, then add the spinach and milk. Cook on a low simmer, stirring occasionally, until the spinach starts to wilt and the sauce begins to thicken, about 3-4 minutes. Stir in the Parmesan cheese and remove from heat.
After the pasta is done, drain and return to the pot. Add half the sauce to the pasta and lightly stir until coated.
To plate, put some pasta coated in sauce onto the plate, top with a chicken breast, and add some of the remaining sauce on top. Serve, ENJOY!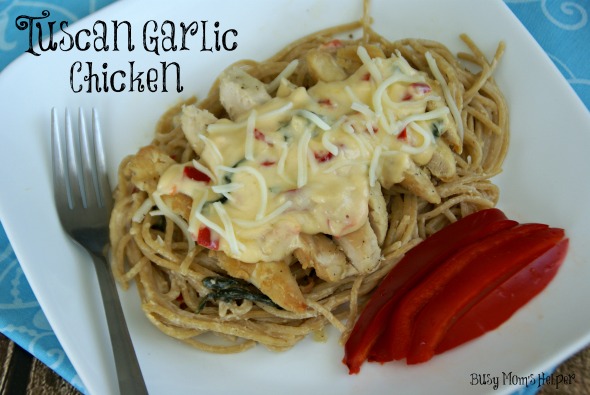 The following two tabs change content below.
Danielle is the crazy momma of 4 behind Busy Mom's Helper, where she shares all her adventues. Married to her best friend & fellow nerd. Totally addicted to Dr. Pepper and chocolate. Staying home with the kiddos keeps her busy, but she loves squeezing in time to create through the ups & downs of life . Now, if she could just figure out how to eat a candy bar without having to share, life would be even more fabulous! Be sure to join the fun at BusyMomsHelper.com
Latest posts by Danielle Reeves (see all)