Happy August, y'all! It's Danielle again from Busy Mom's Helper, and I've got a super-delish recipe to share! This Strawberry Ale Cream Marinated Chicken is a huge hit with my family, especially my Hubby!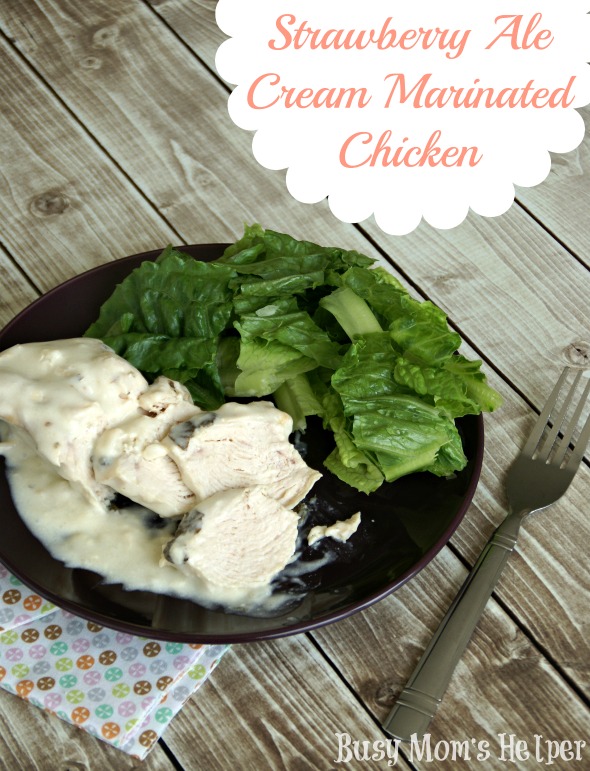 I'm a big lover of simple and quick recipes, because I have nasty habit of forgetting about dinner until…well…dinnertime! With our hectic schedules, it's too difficult to spend forever on a tasty meal. I've gotcha covered though, and I'm sure you'll love this Strawberry Ale Cream Marinated Chicken just as much as we do!
Ingredients
3 Chicken Breasts, boneless, skinless
1 12-oz. bottle Strawberry Ale
1/2 cup Mint Leaves, crushed
1 cup Heavy Whipping Cream
1/4 cup Flour
Directions
In a large skillet, place your chicken breasts over medium heat. Pour the Strawberry Ale over them, and crush the Mint Leaves all over the top. Cook about 10 minutes.
Add the Heavy Whipping Cream and Flour, mixing it all in carefully. Continue to cook over medium heat until chicken is cooked through.
Serve as a main dish, on a salad or even mixed with pasta…it makes a delicious and creamy sauce!
Note: If you want more of a Strawberry Ale flavor than a creamy one, just add less Heavy Whipping Cream. Super simple!
The following two tabs change content below.
Danielle is the crazy momma of 4 behind Busy Mom's Helper, where she shares all her adventues. Married to her best friend & fellow nerd. Totally addicted to Dr. Pepper and chocolate. Staying home with the kiddos keeps her busy, but she loves squeezing in time to create through the ups & downs of life . Now, if she could just figure out how to eat a candy bar without having to share, life would be even more fabulous! Be sure to join the fun at BusyMomsHelper.com
Latest posts by Danielle Reeves (see all)