Hello everyone! I hope your week is going well! I'm undertaking some pretty big projects here at work so I've been a little on edge. But- its only Tuesday and I have every confidence that the rest of the week will go smoothly. I've been catching up on some cleaning, and some projects and I can't wait to share them all with you =D
I cleaned off my desk this weekend- which means I actually have a space to sit down at my laptop! This has been a huge boost to my productivity- as I don't get weird backaches and neck aches from trying to work in my lap on the couch (you'd think I would just clean my desk more often… we'll see). So, that translates into more awesome thing finding! (yeah, that's a new official past-time.) I've got a couple here to share with all of you!
Oh- and if you've got a project of your own, don't forget to link up at Sweet Sharing Monday!!
On that note- on to the faves!


I have said it more than once. I don't like coffee. I've also said that I like what coffee does for chocolate. To that end, an iced mocha is my treat of choice most days. Its my moment to myself to relax. Hubby and I often walk to McDonald's in the evening to grab their version. This- this is better. I make mine with a caramel syrup as well as the chocolate and its JUST the thing. Annie knows what she's doing here- thanks so much for sharing! (Also check out my Iced Mocha Remix.)


I love these rope boxes I keep seeing in all the designer stores. I really love the texture they offer while still looking clean and modern. They also sport a pretty hefty price tag. I don't know why I never thought of making me own- this is gorgeous!! She even lined the inside lip with fabric so it was super chic. Oh, and see that magazine basket in there? She made that too. Uh-huh. Pretty talented!
Oh! And grab a button to show off!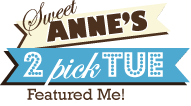 Just copy & paste this code onto your blog!
The following two tabs change content below.
Kayla Domeyer
My name is Kayla and I am a Graphic Designer. That means that I love pretty things, and also that I like to make free printables! I'm so happy that you've stopped by to visit my blog, and I hope you will follow me on
Facebook
,
Twitter
,
Google +
,
Pinterest
or
Instagram
!! (Yeah, and I'm totally addicted to the internet).
Latest posts by Kayla Domeyer (see all)