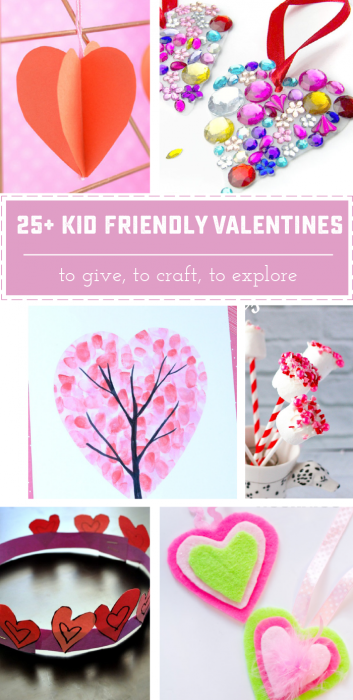 There are few gifts I love more than home made ones, and that goes doubly for things my children make. There's just something so personal and rewarding in a gift a child has made with you in mind, and these 25 Valentines are beyond loveable! Whether you're looking for something to do with your little one, or planning a classroom activity – valentines kids can make are sure to be a hit!
Each one of these valentines kids can make is either adorable, delicious, sweet – or all three! Children are generally kind, and Valentine's day is a great way to explore what kindness might mean to a friend or a neighbor. Valentines might have originally been for romantic love – but the message of loving your neighbor is just as easily used when talking to kids. And what better way to open their ears than to keep their little hands busy!
Coloring Book Valentines by SayNotSweetAnne

DIY Mailbox Valentine by MamaSmiles
DIY Coffee Filter Valentine by SchoolingAMonkey
Minions Valentines Day Box by JennsBlahBlahBlog
DIY Valentines Day Box by ForEveryMom
DIY Kids Valentines Card by BlogWithMom
Mini Pocket Valentines by WeRMemoryKeepers
Jeweled Sun Catchers by Kids Craft Room

Handprint Valentine by MamaSmiles
Burlap Valentine by MamaSmiles
Printable Slime Valentines by SchoolingAMonkey
Simple Valentine by SerendipityRefined
Rock Valentines by LittleLovables
Candle Valentine by RealSimple
Yoda Best Valentine by DesignWashRinseRepeat
Star Wars Valentines by SayNotSweetAnne
Valentine Printable by SayNotSweetAnne

Cupid's Arrow Valentine by ItsWrittenOnTheWalls
String Heart Cards by HelloWonderful
Butterfly Valentines by Mamamelia
Valentine's Day Heart Fingerprint Tree by Easy Peasy and Fun

Paper Plate Valentine by DaniellesPlace
Paint Chip Valentine by Instructables
Ninja Turtle Valentine by HousingAForest
Heart Tree Valentines by NiftyMom
Crown of Hearts by Happy Mothering
3D Paper Heart Craft by Easy Peasy and Fun
Valentine's Day Marshmallows by Sugar Spice and Glitter

Heart Necklace Kids Craft by Kids Craft Room
Treat Pockets by Honey and Lime
The following two tabs change content below.
Kayla Domeyer
My name is Kayla and I am a Graphic Designer. That means that I love pretty things, and also that I like to make free printables! I'm so happy that you've stopped by to visit my blog, and I hope you will follow me on
Facebook
,
Twitter
,
Google +
,
Pinterest
or
Instagram
!! (Yeah, and I'm totally addicted to the internet).
Latest posts by Kayla Domeyer (see all)