Dollhouses and miniatures let us explore styles we can't have in our homes. I design my real home for my family, but my room boxes are like miniature high-rise studio apartments with beautiful things and big windows. Inspired by my love of bohemian style and a full-size rattan shelf online, I made a boho rattan shelf for my 1:12 scale dollhouse. In this not-quite-diy-tutorial, I'll show you how I crafted this beautiful piece using simple materials like wood, styrene rods, wire, and tape, along with flat cordage meant for making bracelets. This one is a lot less involved than my 1:12 KitchenAid mixer – so don't be intimidated! Let's get started!
Materials:
Wood dowels (2-4 of various thicknesses)
Styrene rod (Available at hobby stores or on Amazon)
Armature wire (I used this one, but any flexible and heavy gauge wire will do)
Tape
Flat cordage or thin twine
Clear acrylic (I scavenged a clear food container)
Primer
Paints (brown, tan, and black)
Step 1: Sketch out your design:
To begin, I sketched out the design I wanted for both the front and back of the shelf. I aimed for simplicity on the front to highlight the items that would be placed on the shelves. On the back, I planned intricate details to the back to create a lot of boho texture. For a more realistic touch, I gathered a couple of inspiration images to get a feel for the details and shapes of full size shelves. As I work in the 1:12 scale, I also researched real shelf dimensions and converted them to the appropriate size for my project. You could easily upscale this to 1:6 or playscale too!
Step 2: Build the structure:
I used wooden dowels to create identical straight edge parts for the shelf. I dipped the styrene rods in boiling water for about 30 seconds to soften them, and then I quickly bent them to match the template I had prepared for the curved top. As the styrene cooled, it solidified and fit perfectly. To ensure extra strength, I drilled pin holes in the flat edges where the dowels and styrene met, and then I glued them together using a piece of wire as a peg.
Step 3: Create the rattan weaving:
To create the rattan effect, I used regular armature wire and wooden dowels. I glued the rods in place and reinforced them with strips of tape to resemble the caning that holds real rattan shelves together. You can arrange the rods and tape to match pretty much any pattern, I was just going with what looked right for me.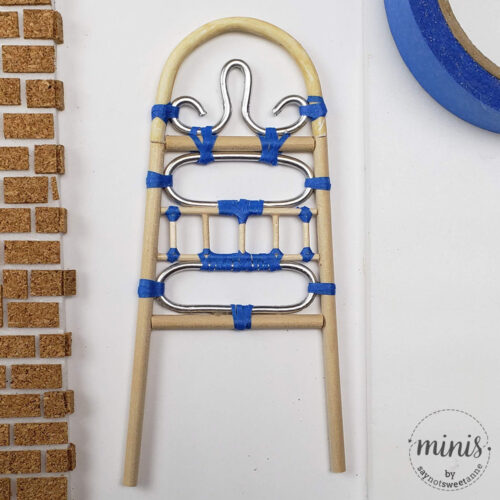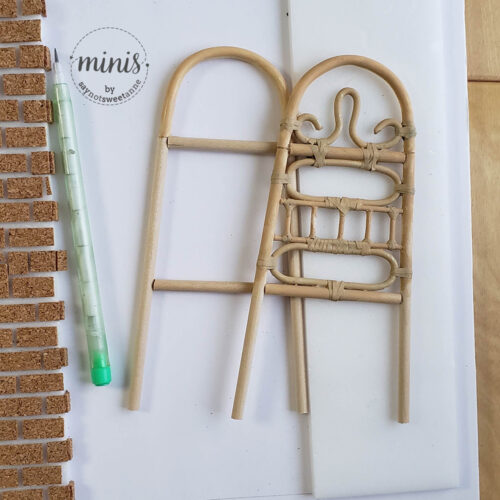 Step 4: Construct the side panels:
I kept the sides simple and made rectangular panels out of five rods, weaving flat bracelet wire in and out of each one using a simple waddle pattern. Finally I glued the side panels in place and reinforced with tape at the joints, again working to make them resemble the caned wrappings of a full size wicker shelf of this sort.
Step 5: Prime and color the rattan:
I applied primer several times throughout the process – mostly just to check that the shapes were right once everything was one color. Still, once all the structure was done it was time for more primer, and some color! I used multiple shades of brown and tan paint to give the rattan a realistic look. I used a toothbrush to fleck paint onto some of the surfaces to mimic imperfections found in real rattan shelves.
Step 6: Add horizontal surfaces:
Finally I cut two pieces of acrylic from leftover packaging to form the top and bottom surfaces of the shelf. These surfaces provide a place for items to rest.
I am beyond thrilled with how my boho rattan shelf turned out! It was surprisingly easy to create, yet the end result looks incredibly realistic. This project has truly brought a touch of bohemian style to my dollhouse or studio loft, and I couldn't be happier. I'm amazed at how simple materials like wood, styrene rods, wire, and tape, along with flat cordage for bracelets, can come together to create such a stunning piece. Now I can admire my miniature shelf and feel proud of the unique style it adds to my miniature world. So don't hesitate to give it a try yourself! You'll be amazed at what you can achieve with a little imagination and some craftiness. Happy crafting and enjoy the satisfaction of creating something beautiful and truly one-of-a-kind!
The following two tabs change content below.
Kayla Domeyer
My name is Kayla and I am a Graphic Designer. That means that I love pretty things, and also that I like to make free printables! I'm so happy that you've stopped by to visit my blog, and I hope you will follow me on
Facebook
,
Twitter
,
Google +
,
Pinterest
or
Instagram
!! (Yeah, and I'm totally addicted to the internet).
Latest posts by Kayla Domeyer (see all)