I really enjoy dying eggs for Easter, and I'm always looking new Easter egg dye ideas. There is definitely something about the more detailed work of things like Pysanky and Ukrainian egg patterns that soothes me with their intricacy, but I definitely don't always have the time for that.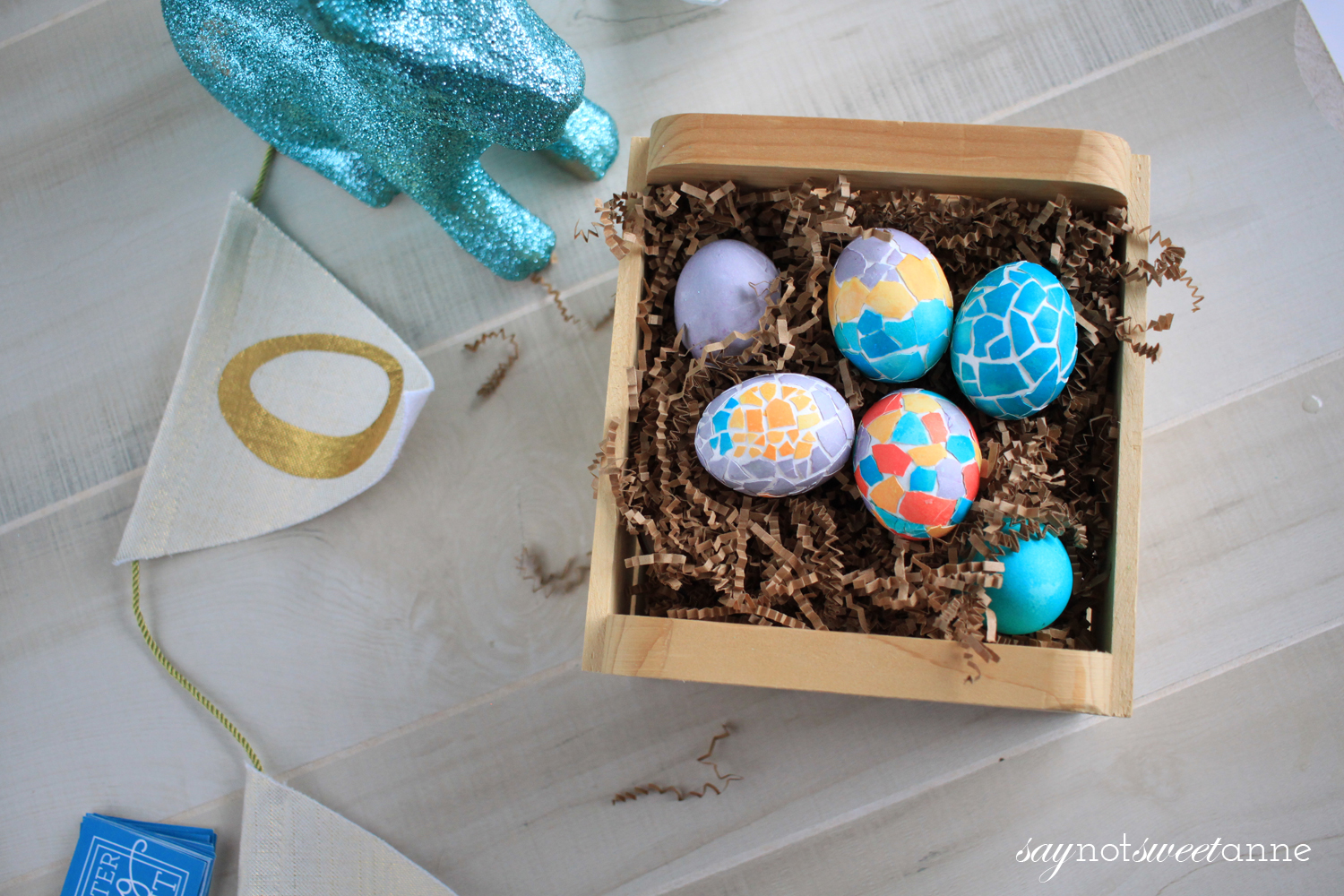 That desire for something beautiful and unique is how these mosaic eggs came about. Years ago I stumbled upon this pin on Pinterest, showing crackled style eggs.  I wanted to do that but the link didn't lead to a tutorial. I searched the internet for a clear tutorial and found nothing. Then, I just sat down and tried it.
Turns out, it is a really easy technique that while it does take time, is pretty soothing without requiring  a lot of concentration. My friend Angela and I did several while we chatted over coffee, and the effect is so lovely!

You Will Need:
Eggs, hard boiled or blown out.
Egg dye ( I just mix 2 tbs white vinegar with 3/4 cup hot water and 20-40 drops food coloring)
Mod Podge or Elmer's Glue
Paintbrush
How To Make It.
This one can't be any simpler. Dye one egg any color you desire. Leave one egg white. Choose if you want your "background" color to be the white egg or the colored egg. In my example the "background" is white and the "foreground" is blue.

Crush the shell of the "foreground" egg. If it is hard-boiled, remove the shell from the rest of the egg. Lay out on work table outside up, so that you can see what you are working with.

On the "background" egg, spread a thin layer of Mod Podge/Glue in a small area.

Using clean, dry fingers, apply pieces of the "foreground" shell to the "background" egg. Try to mingle larger and smaller pieces, and leave gaps between the pieces. Note that if you hands are wet at all, some of the dye might rub off.

Continue doing this in small sections until the egg is covered.
The following two tabs change content below.
Kayla Domeyer
My name is Kayla and I am a Graphic Designer. That means that I love pretty things, and also that I like to make free printables! I'm so happy that you've stopped by to visit my blog, and I hope you will follow me on
Facebook
,
Twitter
,
Google +
,
Pinterest
or
Instagram
!! (Yeah, and I'm totally addicted to the internet).
Latest posts by Kayla Domeyer (see all)