Happy Tuesday! I hope everyone enjoyed their long weekend! Hubby and I went camping with my brother in law and his GF. We had a great time tubing, wading in Lake Michigan, checkin' out Sleeping Bear Sand Dunes and cooking gourmet food over the fire. IT DIDN"T RAIN!!! Yaaay! I have successfully redeemed my camping luck streak. Thank goodness!
So, I'm sure you all noticed that Sweet Sharing Monday has been moved back a day due to the holiday. (Hey, if the banks are closed- so it my blog.) In order to make up for it, I'll extend this week's party all the way until Friday. (Honestly, since I'm including the features in the part post now, there is no reason not to keep it going longer!) Who doesn't want more party time!!?
So, how about you? Did you go on a vacation? Are your children all in school as of today? Don't forget to check out this week's craft post: DIY cookie cutters! I can't wait to see what you've done!
Sweet Sharing Monday Most Clicked:
DIY Ruffled Tree Skirt by Tales of a Trophy Wife
How pretty! I'm not really a big tree skirt kinda gal, but this might just convert me!! Each year hubby and I choose a new color theme that we use to decorate the tree. Sometimes its gold, silver, blue, or red. This year will be light green. With this project I might even be able to make a matching tree skirt! How wonderfully that would tie the whole thing together! I  hope I can finish mine in under 9 months though…

And my Personal Favorite:
DIY Solar Jars by Talitha at Love, Pomegranate House
These are just too cool. Firstly, I love the frosted glass effect Talitha used on these plain glass jars. I could totally see using that in a variety or ways. Secondly, I never would have thought about dismantling a solar lamp to repurpose its pieces! I love to decorate my father's grave once or twice a year- but I don't appreciate a lot of the ugly lights that are available. With this concept, I could make a lovely memory jar, probably with some scripture or words on it, and let it glow gently beside the lovely flowers and grave marker. What a great idea!
If you were featured don't forget to grab a button!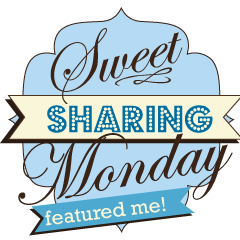 Enough! Let's do some Sweet Sharing!
Don't forget to Check back on Thursday to see which link was the most viewed!
To link back to the party- just copy & paste this code onto your blog!
The following two tabs change content below.
Kayla Domeyer
My name is Kayla and I am a Graphic Designer. That means that I love pretty things, and also that I like to make free printables! I'm so happy that you've stopped by to visit my blog, and I hope you will follow me on
Facebook
,
Twitter
,
Google +
,
Pinterest
or
Instagram
!! (Yeah, and I'm totally addicted to the internet).
Latest posts by Kayla Domeyer (see all)