Well, I did it! I got my whole house cleaned this weekend. Top to bottom, floors mopped, baseboards dusted, oven scrubbed, 8 loads of laundry done, even craft room tidied. How did I do it you ask? Well, I wore sweatpants and an old t shirt, ventured no where outside of the house, and did only 3 crafts . Oh, and I neglected to get Sweet Sharing Monday up on time. But hey- when the inlaws get here this Friday– it'll all be worth it.
Assuming I can keep it clean until then…
Anyhoo- what did YOU accomplish this weekend? I can't wait to see!!
The party is after the features!!
Sweet Sharing Monday Most Clicked:
Vinyl Toilet Decor by Sam at Atkinson Drive
I actually laughed a little bit when I saw this in the party. Toilet Decor? Who does that? Am I expected to do that? Because I don't think I could muster the energy to decorate my toilet. But then, I saw the post by Sam and this little anchor is awesome! What a striking and easy addition to a nautical themed bathroom! I think something like this keeps it from looking a little too little boy sailor, and dresses it up to be more nautical. How cute!!
And my Personal Favorite:
Spooky Halloween Trees by Angie at Marigold Mom
This one is sort of a favorite within a favorite. You see, this party is absolutely awesome. The details are amazing, the cost was kept low and I love how Angie focused on "spooky" and not "scary" for smaller children. But- the reason why I picked this was those awesome trees! At first I thought they were the expensive cardboard kind you can buy around this time of year- but no! Its just rolled black craft paper- drawn and cut out by hand!! How awesome is that? I need to put this up my sleeve for next Halloween.
If you were featured don't forget to grab a button!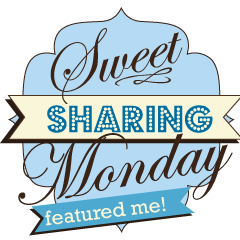 Enough! Let's do some Sweet Sharing!
Don't forget to Check back on Thursday to see which link was the most viewed!
To link back to the party- just copy & paste this code onto your blog!
The following two tabs change content below.
Kayla Domeyer
My name is Kayla and I am a Graphic Designer. That means that I love pretty things, and also that I like to make free printables! I'm so happy that you've stopped by to visit my blog, and I hope you will follow me on
Facebook
,
Twitter
,
Google +
,
Pinterest
or
Instagram
!! (Yeah, and I'm totally addicted to the internet).
Latest posts by Kayla Domeyer (see all)