Boy, this Monday is going to be a doozey. After 4 days of stuffing myself, visiting with family and shopping, the prospect of heading back to work is a daunting one. I hope that you each took some time off to relax and regenerate (maybe a little retail therapy?) this weekend. I had an amazing time with family, even if travel did wear be out a bit. But don't think I was slackin' the whole time! Oh no! I was honored to participate in the Bake, Craft, and Sew along with some Filled Ginger Snap Cookies– and put up our woodland themed Christmas tree to go with our DIY Advent Calendar.
But, enough about MY week. What have you all been up to? I can't wait to see!
Before we start, however, let me give an update on something I mentioned last week:
I want to say thanks for stepping up and clicking on fellow blogger's links. The amount of clicks went up from 30 to 49. Its still heartbreaking that over 90 links were posted- and only half of that number visited another's page. I know that we're all busy, and we see some of the same links at other parties and we might have visited them there. Then please, look for a link you haven't seen and visit. If you leave a comment, you'll even get extra warm fuzzies. Thanks!!
The party is after the features!!
Sweet Sharing Monday Most Clicked:
Top 5 Comment Tips for Bloggers by Diana Rambles
The blogging community is just that- a community. This whole world is built on how we communicate with each other and our readers. Diana has some great tips to help you be a better blogger, and get more comment feedback. I for one LOVE meaningful comments- and I try my best to leave them. There's just something empty about, "so cute." as a comment.
And my Personal Favorite:
DIY Paper Church by Wesen's Art
With my intense love for 3d paper crafting, how could I NOT love this!! The idea of making a snow white pretty Christmas village just tickles me. What's more, Wesen's Art offers these as free printables! That's right, anyone can make this beautiful church or the houses, and tree that she has developed as well. I for one know that there in nothing harder than putting a 3d shape onto a piece of paper and explaining to others how to make it come to life. She did such a great job!
If you were featured don't forget to grab a button!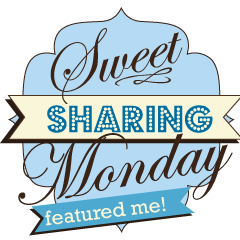 Enough! Let's do some Sweet Sharing!
Don't forget to Check back on Thursday to see which link was the most viewed!
To link back to the party- just copy & paste this code onto your blog!
The following two tabs change content below.
Kayla Domeyer
My name is Kayla and I am a Graphic Designer. That means that I love pretty things, and also that I like to make free printables! I'm so happy that you've stopped by to visit my blog, and I hope you will follow me on
Facebook
,
Twitter
,
Google +
,
Pinterest
or
Instagram
!! (Yeah, and I'm totally addicted to the internet).
Latest posts by Kayla Domeyer (see all)