Well good day to you! And what a lovely Thursday it is. Its finally cooled off to a reasonable temp over here (plus I finally bought a 1 room AC) I've been walking to work, and eating well so all over I'm feeling chipper!The only thing that could make it  better is YOU GUYS and your awesome links! There were some really great links this week, more than I can feature. But check out the most clicked and my fave!
Enough about me – onto the praise!
Sweet Sharing Monday Most Clicked:
What to do With Altoids Tins – by Katie at the Crafty Blog Stalker
Can you believe Katie has been the most clicked link TWO WEEKS in a ROW!? Way to go chicka- you're rockin it! I'm not surprised that this one was at the top this week – who doesn't have a bunch of these lying around? They're sturdy and nice metal, and apparently have a million uses! Thanks Katie for putting them all in one place, this was a great round up!
And my Personal Favorite:
Lemon Coin Purse – by Kate at  A Creative Cookie
Okay, this one is a ringer for me. Firstly its lemon- which we've already discussed that I love. Secondly its super cute and cartooney in the way that the felt is used to make the design. Thirdly its matches the interior of the purse I made perfectly!! I love quirky little trinkets in my purse, and I currently don't have a coin purse yet. Thanks so much Kate!
If you were featured don't forget to grab a button!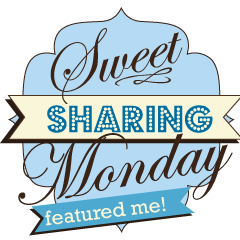 The following two tabs change content below.
Kayla Domeyer
My name is Kayla and I am a Graphic Designer. That means that I love pretty things, and also that I like to make free printables! I'm so happy that you've stopped by to visit my blog, and I hope you will follow me on
Facebook
,
Twitter
,
Google +
,
Pinterest
or
Instagram
!! (Yeah, and I'm totally addicted to the internet).
Latest posts by Kayla Domeyer (see all)