This week was crazy for me, with doctor's appointments, dental appointments, one emergency root canal, and 4 websites all going live at work. (Did I mention I'm the ONLY web/graphic designer there? That's what non-profit means. Understaffed =D ) But I survived it all. I didn't, however, get a chance to invite nearly as many people to the party as I have been. To my surprise, though, we collected the same number of links this week as last. You guys are so awesome for coming back- and your projects never cease to wow me!
Now onto the praise!
Sweet Sharing Monday Most Clicked:
This is such a great gift wrap idea. I for one don't usually give cash because its just not my way. However- I hear the tooth fairy prices have gone up since my day. How awesome would this be under a pillow with a cute little sticker inside from the tooth fairy? It looks SUPER simple to do and I'll certainly have to try it out!
And my Personal Favorite:
Pencil Pretzess – by Maysem on Ode to Inspiration
I love love love this. When I saw the thumbnail I thought they were pencils at first! But what is so darn adorable isn't that they are the spitting image of a no. 2 pencil. Its the possibilities! Imagine crayons, colored pencils, crayola markers, syringes for Halloween! Its so darn cute I just can't stand it! Oh, and it doesn't hurt that I happen to LOVE chocolate covered pretzels. =D
If you were featured don't forget to grab a button!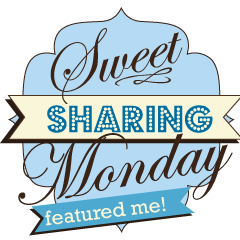 The following two tabs change content below.
Kayla Domeyer
My name is Kayla and I am a Graphic Designer. That means that I love pretty things, and also that I like to make free printables! I'm so happy that you've stopped by to visit my blog, and I hope you will follow me on
Facebook
,
Twitter
,
Google +
,
Pinterest
or
Instagram
!! (Yeah, and I'm totally addicted to the internet).
Latest posts by Kayla Domeyer (see all)