Happy Thursday! I know that every week I say something trite like "I can't believe its Thursday already!" Well, I'm going to refrain this time. I am definitely ready for Thursday. Heck- I feel like today should be Friday! Hubby accidently dropped and cracked my phone screen on Sunday, so ALL week I've been working on replacing it. I've been shipped 2 different "refurbished" phones with defects. FINALLY they agreed to send me a brand new phone! Except, someone forgot to actually DO that and I didn't get it today like I was supposed to. I guess tomorrow then. :::crosses fingers::: So yeah, I'm living for the weekend.
Enough about me – onto the praise!
Sweet Sharing Monday Most Clicked: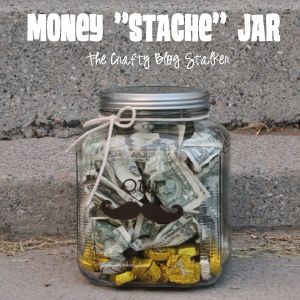 Money Stache Jar – by Katie at the Crafty Blog Stalker
Umm…. AWESOME!? Who DOESN'T love a jar full of money? What an awesome wedding gift. I still remember doing the dollar dance and gawking stupidly at all the dollars we got! I'm sure I would have done the same thing if I'd gotten this jar. Plus, as a newlywed couple, its nice to have something to stash change and such to save up for dates. Most new couples are cash strapped for at least a bit.
And my Personal Favorite:
Cheap Roadtrip – by Sam at Cooks & Creates
This one came at a perfect time for me. Hubby and I have 5 days off this weekend, and we're toying with the idea of taking my brother and sister to a theme park. I really want to go, but the idea of two tweens on a long drive plus the cost of getting there was really starting to get me down. some of these ideas are golden! I can save a buck while also keeping the monsters happy and busy. =D
If you were featured don't forget to grab a button!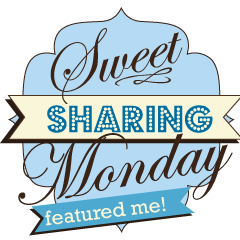 The following two tabs change content below.
Kayla Domeyer
My name is Kayla and I am a Graphic Designer. That means that I love pretty things, and also that I like to make free printables! I'm so happy that you've stopped by to visit my blog, and I hope you will follow me on
Facebook
,
Twitter
,
Google +
,
Pinterest
or
Instagram
!! (Yeah, and I'm totally addicted to the internet).
Latest posts by Kayla Domeyer (see all)