If you've ever read this site before, you know that my BFF moved to Korea in August of this year. Her and her husband have been having a great time teaching over there, but she does miss home. Among the things that she's craving are: fruit snacks, McDonald's Holiday Pie, brownies and peanut butter.
So for Christmas I wanted to give her baked goods. Trouble is, the shipping time can be up to 3 weeks. So, I thought I would make her a cookie mix so she could make them herself. That plan was foiled too since she only has a tiny toaster oven in her apartment.
Then, a bloggy friend suggested maybe canned cake. The basic premise is to make a cake in a canning jar and seal it while hot. The heat causes baked goods to vacuum seal as they cool and will last up to 2 months unopened.
I loved the idea, but Amy and I share a general dislike for cake. But what about cookies? Hot cookies in a hot jar with a hot lid should do the same thing- right? Right!
So, I sent Amy brownies, and peanut butter cookies in a jar. Then to satiate her love of the McDonald's Custard pie (a sugar cookie crust with vanilla custard) I made sugar cookies and sent some vanilla pudding cups.
This method is great for friends and family that live far away, or for loved ones in the military. It would also be a great wedding favor since people could keep them for a while and eat as they like. And it was so easy!
NOTE: It is important to note that while these cookies are stored in a heated canning jar, they are not canned. My goal was to create a shelf stable cookie that would be "fresh" when Amy received them up to a month later. The sealed canning jar keeps air from traveling around the cookies, and prevents them from drying. This is a method to prevent staleness, not to preserve baked goods.
What You Need:
Wide mouth canning jars, rings, and lids.
Your favorite cookies.
Oven.
How To Make It:
The process is really simple. Sterilize your jar, rings and lids as normal.  Heat your jar, lid and rings in the oven as you bake your cookies. Then, once the cookies have cooled enough not to fall apart, just stack them in the jar. I baked my cookies on parchment and stacked them that way too to prevent sticking. Once the jars are cool, the seal button should be down. That means they sealed!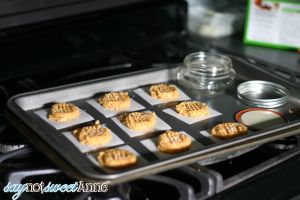 The following two tabs change content below.
Kayla Domeyer
My name is Kayla and I am a Graphic Designer. That means that I love pretty things, and also that I like to make free printables! I'm so happy that you've stopped by to visit my blog, and I hope you will follow me on
Facebook
,
Twitter
,
Google +
,
Pinterest
or
Instagram
!! (Yeah, and I'm totally addicted to the internet).
Latest posts by Kayla Domeyer (see all)