[question] The 2015 Student/ June – June Planners are out! This time there is a homework tracking option as well!
CHECK IT OUT
. [/question]
I can't believe that it is already May! The past 12 months has flown by for me, and probably for you too. It's been over a year since I released the 2013 Printable Student planner, and I have been inundated with requests for a 2014 version.
Since the launch of the Modular Planner line in October, follower by the Half Size Version in January, I have been constantly working toward better, more refined planner versions. I'm happy to say this version boasts better design, Hopefully my standard of quality will make this year's student planner your personal favorite!
[question]Not a student? There is still a planner for you! Check out the
2014 Modular Planner!
[/question]
DESIGN:
This year's 2014 Student planner uses four of the most popular background patterns from the Modular Planner. Then, I made the Geometric Grey version use less "swirly" fonts for those who thought the other versions were a touch feminine or cutesy. This was because I did get quite a lot of requests for a planner that a teenage boy would use.
FEATURES:
June – June dates so not to interrupt the school year.
Available in 4 Color Options.


Ashley Orange

Geometric Grey

Blue Wave

Purple Weave

Space to record Contacts, Passwords, and Notes.

Month and Week views, with plenty of space to write.

Weekly space to record Homework.
Modular design allows any of the add ons from the Module Line to be added. You can add a meal planner, extra curricular planner, blog tracker, notes and more!


Easy to print, suitable for many binding options. You can hop over to the Modular Planner post to see my favorite binding methods (I tried a bunch!), Pens, and more!
This planner is one more step toward my ultimate goal of becoming a full-time blogger. My hope is that, because I've put so much work into this planner, and because I have been so meticulous in creating options and colors, that you won't spit your coffee out at the screen when you read this next bit.
This planner is not available for free. It is for sale (along with many other printables) in my Store.
It is, however, cheap as far as planners go, and currently if you visit the Sweet Anne Designs FB Page there is a coupon code to make it even cheaper. The Coupon Code has expired. Check back for the Early Bird coupon in late October for the 2015 year planner!  And, because I really, truly do love my audience, I'm giving away one of the Add ons FOR FREE!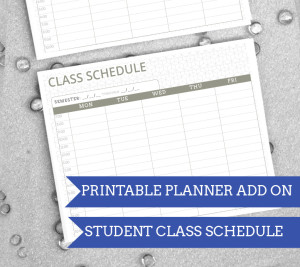 This awesome add-on is PERFECT for the student planner, and because it is separate, you can print as many copies as you need. That's right, every time you drop a class, switch your schedule, or start a new semester – all you have to do is print a new schedule page and add it to the planner! Heck, you could even use them just to plan out your schedule before signing up for classes (which is like the biggest headache ever ammiright?)!
That's it folks! The moment you've been waiting for! I hope you are just dying to get your new Student Planner. Get started with the links below!!
[question]
Get the '14 – '15 Student Planner HERE
[/question] [question]
Download the Class Schedule Page:
Classic Grey

Purple Weave

Blue Wave

Ashley Orange
[/question]
The following two tabs change content below.
Kayla Domeyer
My name is Kayla and I am a Graphic Designer. That means that I love pretty things, and also that I like to make free printables! I'm so happy that you've stopped by to visit my blog, and I hope you will follow me on
Facebook
,
Twitter
,
Google +
,
Pinterest
or
Instagram
!! (Yeah, and I'm totally addicted to the internet).
Latest posts by Kayla Domeyer (see all)