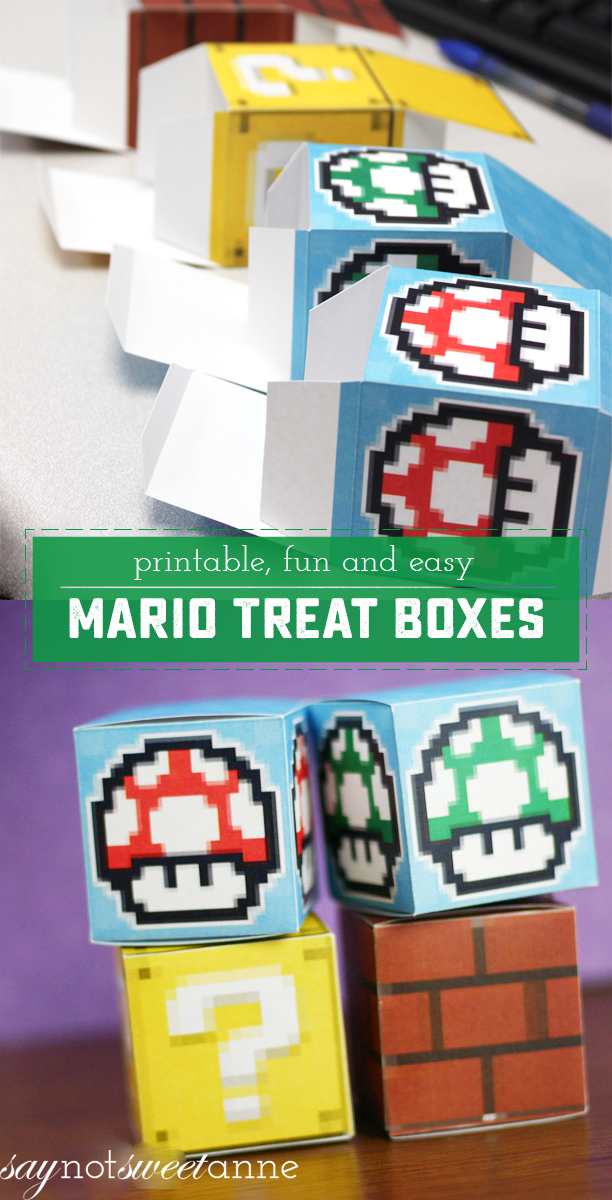 It is no secret that Hubby and I are gamers. In the past I've shared Minecraft creeper marshmallows, Printable Minecraft costumes, Zelda themed swaddle blanket and this awesome Zelda themed ceramic mug. Today though, I'm going even more old school. I'm talking the Nintendo Entertainment System, baby! The console itself was released in my husband's birth year, and it is something that he grew up with. (My family opted for computers over consoles, even back when DOS was a thing. But that didn't keep me from playing at my cousins', friends' and babysitter's houses.) And from that nostalgia comes these Printable Mario treat Boxes!
I can't get over how much I love the look of these little Mario Treat boxes. They are so bright and vibrant, and the 8 bit graphics take me right back to the late 80s and Early 90s era of classic video games. The concept of the boxes is simple, and follows the method you've probably seen before in all of my countdown block sets. They come together pretty quickly after a little work with some scissors and tape/glue. I think they'd make great party favors, or even little gift boxes.
What You Need:
How To Make Them:
Print the template you want to make on a sheet of heavy card stock.
Cut out the shape on the solid lines.

Use a butter knife and a ruler to score the fold lines.
Fold along the fold lines.
Glue or tape opposite sides together, as pictured.

Tuck the bottom flap in and glue or tape.

Fill with whatever you want (or nothing at all) and tuck the top flap down.

That's it! Feel free to make as many as you want. They would be awesome for Father's Day, Valentine's Day, or even a themed party favor for a birthday party, shower or wedding!
The following two tabs change content below.
Kayla Domeyer
My name is Kayla and I am a Graphic Designer. That means that I love pretty things, and also that I like to make free printables! I'm so happy that you've stopped by to visit my blog, and I hope you will follow me on
Facebook
,
Twitter
,
Google +
,
Pinterest
or
Instagram
!! (Yeah, and I'm totally addicted to the internet).
Latest posts by Kayla Domeyer (see all)