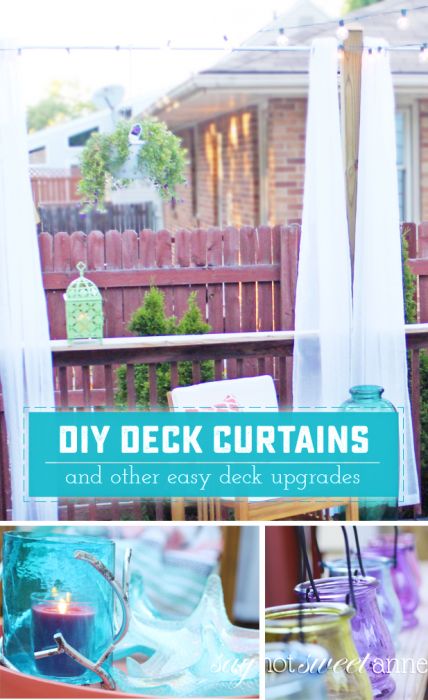 In May my husband and I spent a week in Jamaica to celebrate our 5 year wedding anniversary. Of course the sunshine was amazing, crystal blue ocean water was beyond compare, and the temperature was just what this post-winter Michigander needed. All of those things were pretty expected. What I didn't expect, however, is to fall in love with the outdoor/indoor feeling of caribbean rooms. Everything from houses to resorts sport concrete poured rooms that are essentially porches. These spaces aren't treated like the "twice a year while barbequing" porches of Michigan though. No, in Jamaica the weather is predictable and fair enough that these rooms are viewed as an extension of the house, used as we would a living room or dining room.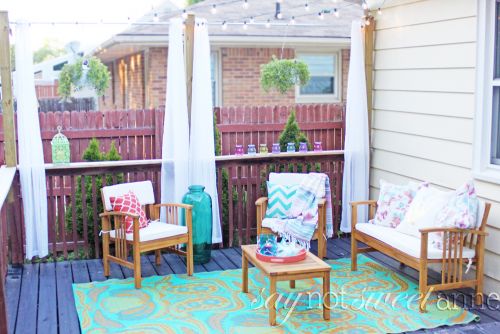 Inspired by the indoor/outdoor rooms of Jamaica, I've been on a mission. I've been dead set on sprucing up our outdoor space. We have a large deck that definitely needs repainting, but is otherwise quite nice. A large privacy fence and a forest to the rear of our house mean that we can have privacy as well. But how to make it feel like a room, and not a deck? After consulting Pinterest and an architect neighbor of ours, we decided the space needed height, shade and the illusion of a wall.
That's all easily said, but how could we do it without breaking the bank? After much thought, Hubby and I created some beautiful curtains to add height, topped them with warm glowing lights, and thrifted our way into a Jamaican decor theme. Check it out!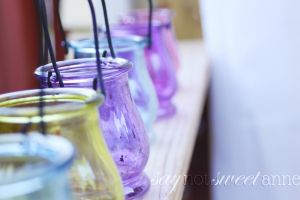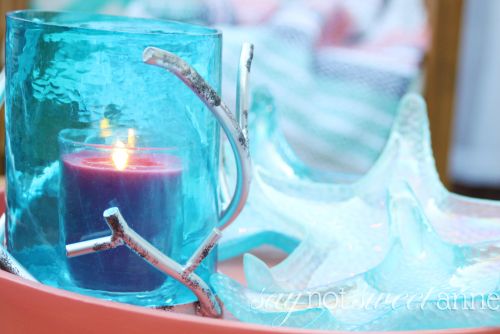 What You Need:
4×4 Pressure treated posts (the number will depend on your deck. At least 2)
5in lag bolts (3 for each 4×4 post)
Washers for the lag bolts (2 for each bolt)
Threaded pipe the length of your curtain rod area. (I recommend assembling the posts, then measuring for accuracy)
Threaded pip flange (2 for each rod)
Outdoor save curtains. (We chose a durable rayon sheer)
Saw
Drill
How To Make It:
To add height to our existing deck posts, we need to make a lap joint. Begin by removing the top railing that sits on the posts you'll be extending.

Cut two matching notches into the existing 4×4, and your extension.

Drill a hole (countersink it if you know how) and attach the two 4x4s with the lag bolts, using a washer on each side.

Repeat as needed to extend the posts.

Replace the top railing, cut it as needed to accommodate the new extended 4x4s.
For the curtain rod, buy a piece of threaded pipe the length of your "window" opening. Thread the pipe onto two flanges, one for each side.

Screw the flanges into the extended 4×4 posts, checking to make sure they are level.
I absolutely love our new space. It definitely captures that "room outdoors" feeling. The DIY deck curtains have gone a long way toward that, but I think the subtle touches of furniture and textiles have made all the difference. These days, while I can't look out on a caribbean sunset, I can relax on my deck with my white fluffy curtains blowing in the breeze, with sea themed decor and a cool drink in my hand.
The following two tabs change content below.
Kayla Domeyer
My name is Kayla and I am a Graphic Designer. That means that I love pretty things, and also that I like to make free printables! I'm so happy that you've stopped by to visit my blog, and I hope you will follow me on
Facebook
,
Twitter
,
Google +
,
Pinterest
or
Instagram
!! (Yeah, and I'm totally addicted to the internet).
Latest posts by Kayla Domeyer (see all)