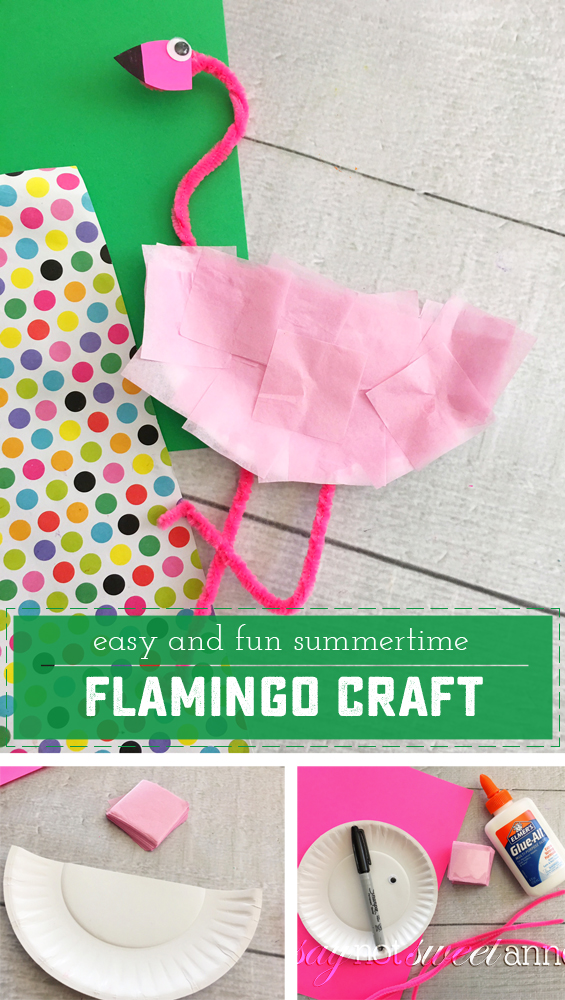 Warm sunshine, bright colors and the allure of cool water are all wrapped up in this easy summer craft. Flamingos are a ubiquitous symbol of the sun and the coast – plus this one is pretty darn cute! The craft level of this activity is easy enough for even littles like my Squish to do, and the ingredients are pretty low mess. (Bonus if you use glue stick or double stick tape instead of glue!)
Stave off summer boredom, or wait out rainy days with an easy summer craft Flamingo! Make several and have a flamingo party on your refrigerator, or in a window for all to see. Practice cutting and gluing skills with little ones, or mix up the colors to create peacocks or other birds! I personally think this is a great after-the-zoo craft, and I'm planning on using to to encourage The Squish to remember the Flamingos he saw in person.
What You Need:
Small paper plate
Light pink tissue paper squares
Bright pink pipe cleaners
Bright pink card stock
Small googly eyes
Elmer's glue
Scissors
Black marker
How To Make It:
Cut your paper plate in half and lay it down with the flat side facing up.

Squirt several dots of glue onto the paper plate half and spread around with your finger tip.

Cover your glue with pink tissue paper squares.

Fold a pipe cleaner in half, twist until it looks like one thicker pipe cleaner, leaving one small loop at the top. Repeat with 2 more pipe cleaners.

Pinch the loops on two pipe cleaner and bend the end about 1/2″ up (these will be the

flamingo

's feet)
Keep one pipe cleaner straight (besides the foot) and glue to the back middle of the plate.

Glue the other pipe cleaner next to the last but bend it slightly in half so that it crosses over the first.
Take your last twisted pipe cleaner, bend it into an "S" shape and glue to the back top left of the plate.
Cut a small rounded triangle shape from your pink paper, color the tip black, and glue a googly eye to the triangle.

Glue the triangle to the "neck" pipe cleaner.

The following two tabs change content below.
Kayla Domeyer
My name is Kayla and I am a Graphic Designer. That means that I love pretty things, and also that I like to make free printables! I'm so happy that you've stopped by to visit my blog, and I hope you will follow me on
Facebook
,
Twitter
,
Google +
,
Pinterest
or
Instagram
!! (Yeah, and I'm totally addicted to the internet).
Latest posts by Kayla Domeyer (see all)