Whew! It's Friday! That means several important and uplifting thigs: 1.) No more work until Monday! 2.) I get to go to a Bridal Shower tomorrow! 3.) I get to see my mommy on Sunday! All of that tally's up to one happy Kayla this afternoon. =D I hope you all are feeling as chipper as I am. Finally kicking that nasty cold, getting back on the eating-right train, and catching up on my work duties. Feels good to cross things off the list. I guess I'm feeling particularly giving this week, because most of my faves are things I'd like to make/share with other people. I hope you enjoy!
I've got a weakness for beautiful cooking ingredients. Give me some pretty olive oil, a home made caramel syrup or vanilla sugar any day! So naturally, when I saw this post I fell in love with the idea. These could be fancy, upscale gifts for a wedding (who doesn't want to start their new life with a high quality spice/ingredient set!?) or really any occasion. Add in a cute label and it is to die for.
Up until this week, I hadn't had jello in a LONG time. But then, in the grocery store I was craving something sweet but pretty low cal. Against my better judgement I wandered into the baking aisle and perused the brownies, cookies, and cake mixes. Then I spotted watermelon jello. Easy lifting, delicious and 50 calories a serving! I was sold. Its pure coincidence that about 3 hours later I stumbled onto this! These cookies are finished and flavored with jello mixes. The color is what caught my eye- they are so inspiring!
This post isn't new, but it's new to me. I love books and mini things. So naturally I love mini-books. These pocket sized journals are just the thing for sketching dreaming, taking notes or just leaving out to look pretty. I'm really inspired by color and the paper she used. I just might have to break out some mini-composition books of my own!
I have never thought of bending Popsicle sticks- even though steaming and bending wood has been done for hundreds of years. This miniature woodworking project is just SO cute! I'm not a big bracelet wearer, but when I saw this immediately my mind flooded with all sorts of ideas for gifting! Favors for a themes party with the theme on them, maybe even business cards?
What can I say I'm a big fan of Amy's. I've seen rice krispy "pops" before, but it was the super cute addition of the printable that made for me. I could see using a similar phrase to give my hubby a "bouquet" for our next occasion. (See what I mean about feeling giving?)  =D
Thank you everyone for visiting, and I hope you have a fantastic weekend. To all those super-moms out there. Keep doing what you do. Take your day and enjoy it. You've all earned it!  Oh! And grab a button to show off!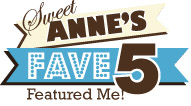 Just copy & paste this code onto your blog!
The following two tabs change content below.
Kayla Domeyer
My name is Kayla and I am a Graphic Designer. That means that I love pretty things, and also that I like to make free printables! I'm so happy that you've stopped by to visit my blog, and I hope you will follow me on
Facebook
,
Twitter
,
Google +
,
Pinterest
or
Instagram
!! (Yeah, and I'm totally addicted to the internet).
Latest posts by Kayla Domeyer (see all)