Woot Woot! Today is Tuesday and you know what that means! You got it- tomorrow is Wednesday. Lol! (insert laugh-track here). Oh yeah, it also means 2 Pick Tuesday. Well I've got em! I hope everyone is having a wonderful week so far- and that everyone stays safe and happy on Independence day tomorrow! What is your family doing? Feel free to share in the comments!

Whoa! Do you see that little square right there? That is some eye-catching dessert my friend. And would you believe its JELLO!? I have to say, I bookmarked this one the instant I saw it. I knew it was going on 2 Pick Tuesday. The image just jarred me- its so crisp and clean in the layers, it looks like it could be in a 5 star restaurant. Bonus: Its easy and tastes good.
I must be hungry, because both of my picks are food! This neat little trick isn't technically brown sugar- but WHO CARES!? In a pinch, I'll me more than happy to use this method. Also, Karrie says it makes makes goods taste better. I'm totally cool with that too. I dunno why people get all gummed up in the technicalities- this stuff is brown and sugar. That's good enough for me!
So, I hope you like 2 Pick Tuesday?  Oh! And grab a button to show off!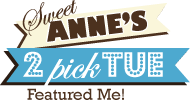 Just copy & paste this code onto your blog!
The following two tabs change content below.
Kayla Domeyer
My name is Kayla and I am a Graphic Designer. That means that I love pretty things, and also that I like to make free printables! I'm so happy that you've stopped by to visit my blog, and I hope you will follow me on
Facebook
,
Twitter
,
Google +
,
Pinterest
or
Instagram
!! (Yeah, and I'm totally addicted to the internet).
Latest posts by Kayla Domeyer (see all)