I know, I've been an awful little blogger. Sweet Sharing Monday is up late- and so is this week's tutorial. I don't even have a good reason, really- just that I've been frantically trying to sew two renaissance costumes before hubby ad I take my brother and sister to the Ren Fest this week. So, I neglected the blog a little bit. Don't feel awful though! My house is even worse. I probably haven't even "tidied" since before we left for vacay.
Well, I'm here now! I woke up bright and early and zoomed into the office just to put this little ray of sunshine into my internet-based-corner of the world. You know how much I love seeing all of your WONDERFUL submissions!
Also, I'm testing out a new format. In order to give more attention to the most clicked, and my favorites from the past week- I'm going to link them here instead of in a separate post. I hope that gives them a little more exposure and an extra pat on the back. What do you think? Scroll past the faves to see the party!
Sweet Sharing Monday Most Clicked:
How to Paint Laminate Furniture – by Talitha at Love, Pomegranate House
It is no wonder this was the most clicked this week. Everyone has some sort of laminate furniture in their house. I see it at thrift stores all the time too- but its so outdated and usually cheap looking that I feel I can't do anything with it. The techniques Talitha goes through are SO EASY I feel like I could revamp anything to be a beauty! I also love her color choice for her redo. =D

And my Personal Favorite:
Sewing Pattern Flowers – by Mitzi's Miscellany
Didn't I mention I've been sewing my heart out this weekend? It was my hubby's first experience with a pattern (he's sewing his own doublet this year) and his frustration was notable. I'm sure he would have NO qualms about re-purposing those sheets upon sheets of tearable, crinkled and impossible to fit bag in the envelope paper! Not to mention that the colors just scream fall, I could definitely see these on my fall mantelpiece. How lovely!!
If you were featured don't forget to grab a button!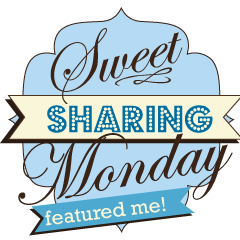 Enough! Let's do some Sweet Sharing!
Don't forget to Check back on Thursday to see which link was the most viewed!
The following two tabs change content below.
Kayla Domeyer
My name is Kayla and I am a Graphic Designer. That means that I love pretty things, and also that I like to make free printables! I'm so happy that you've stopped by to visit my blog, and I hope you will follow me on
Facebook
,
Twitter
,
Google +
,
Pinterest
or
Instagram
!! (Yeah, and I'm totally addicted to the internet).
Latest posts by Kayla Domeyer (see all)