Right about the time you all are reading this, I am dancing my tushy off at a Matt Wertz concert. Soon, I'll be sleeping while hubby drives us 2+ hours back home, arriving somewhere around 2am. Then, I'll crawl into bed and wake up tomorrow morning for work. Because that's how we do. Momma like to rock it.
Anyway, I've been super crazy over to top busy this week with work. (Like, the kind of busy where I get called BACK into to office after going home.) So I'm sorry for the lack of attention I've paid ya'll. To make up for it, I offer you: Hectic mommy makeover and Low Fat/Sugar Brownie Batter Ice Cream. Let's see what you were up to this week!
The party is after the features!!
Sweet Sharing Monday Most Clicked:
Easy Folded Wire Ring by Rena at Jewelry Making Journal
This is the second week in a row that Rena's post has been our most clicked. And why not? The girl is talented. =D She made wire rings look easy in this tutorial. So much so, that I might just have to try it out. I don't have a mandrel, but it I'm only making them for me, I imagine I can buy some pipe that fits my finger and test it out. Lovely!
And my Personal Favorite:
Hand Painted Deer October Calendar – by Aimee at Twigg Studios
Can you believe the amazing art on this calendar? Aimee hand painted that deer head, scanned it, and then put it on this awesome printable for all of us to see. I for one LOVE when hand drawn/painted/tooled elements end up in design. As a graphic designer I can honestly say I don't see this enough. I'm always telling my intern to start on a * sketchpad* not on the computer. Some of the most beautiful things just HAVE to be touched by human hands. ♥
If you were featured don't forget to grab a button!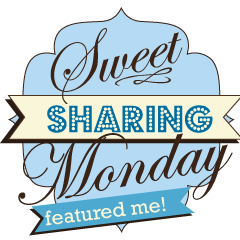 Enough! Let's do some Sweet Sharing!
Don't forget to Check back on Thursday to see which link was the most viewed!
To link back to the party- just copy & paste this code onto your blog!
The following two tabs change content below.
Kayla Domeyer
My name is Kayla and I am a Graphic Designer. That means that I love pretty things, and also that I like to make free printables! I'm so happy that you've stopped by to visit my blog, and I hope you will follow me on
Facebook
,
Twitter
,
Google +
,
Pinterest
or
Instagram
!! (Yeah, and I'm totally addicted to the internet).
Latest posts by Kayla Domeyer (see all)