Yaaay! Pics are working now! I tried to have this up and running last night, but for some reason it was timing out when I tried to upload images. But now it's working!! Well, my stressful week is almost over, the big event is tomorrow. So today at work it will be set p, sound checks, last minute changes etc. But after that, I can relax. I might even use my DIY peeling mask and give myself a little spa treatment!
Anyhoo- what did YOU accomplish this weekend? I can't wait to see!!
The party is after the features!!
Sweet Sharing Monday Most Clicked:
Chocolate and Fudge cups from Winnie's Blog
Well, it must be the season. Everywhere I look I am surrounded with confectioneries. Chocolates, pies, cakes, rolls, even drinks! How is a girl to keep on track with all of this temptation ! Well, I for one think these sound AMAZING. My BFF loves Reese's cups and a home made batch would be just the thong for a Christmas Gift!!
And my Personal Favorite:
Just yesterday Hubby and I decided on our theme this Christmas. You see, we have a plain white tree, and each year we choose a new color. (We typically buy the ornaments half off after Christmas, and use them the next year). Nothing suited our fancy when ornament shopping last year, and this year the colors all seem to be too teeny-bopper. So, we decided a woodland, natural theme. Kraft paper and burlap etc. (You can see the Pinboard I made of my inspirations here.) So this is JUST the thing! I've got it bookmarked to try!
If you were featured don't forget to grab a button!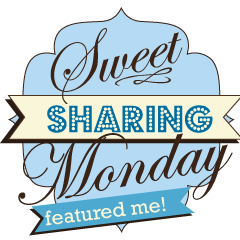 Enough! Let's do some Sweet Sharing!
Don't forget to Check back on Thursday to see which link was the most viewed!
To link back to the party- just copy & paste this code onto your blog!
The following two tabs change content below.
Kayla Domeyer
My name is Kayla and I am a Graphic Designer. That means that I love pretty things, and also that I like to make free printables! I'm so happy that you've stopped by to visit my blog, and I hope you will follow me on
Facebook
,
Twitter
,
Google +
,
Pinterest
or
Instagram
!! (Yeah, and I'm totally addicted to the internet).
Latest posts by Kayla Domeyer (see all)