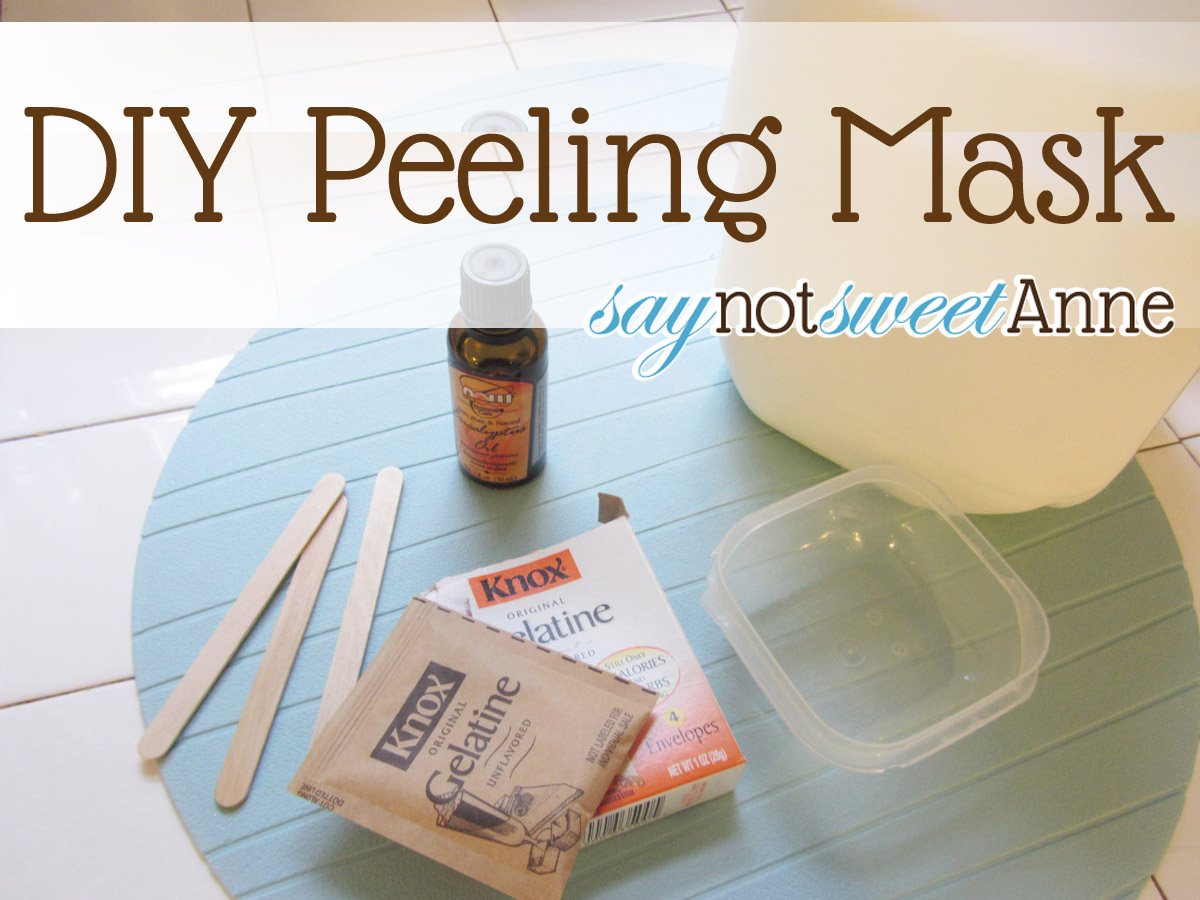 I remember having little spa moments with my mom. She had a peeling mask she kept in the medicine cabinet. She would let me put it on, and I danced impatiently waiting for it to dry. Then I peeled it off and stared at all those little skin cell impressions (I was too young to have *that* many dead skin cells). It was like beauty magic!
Well, I've totally been into DIY beauty lately. Its easy, usually cheap, and it allows me to take greater control over what I put on my body and into my skin. So when I bumped into a couple roumors about making peeling masks at home, I had to give it a shot. It was so cool! Easy, fast, and with a little bit of essential oil it smelled great too!
What You Need:
a small container
Popsicle stick or something else to stir with
Unflavored gelatin
Milk
Essential oil of your choice

What To Do:
Wash and pat your face dry.
In a small bowl, empty one packet of unflavored gelatin.

Add 2 drops of essential oil. I used Eucalyptus in this one because of its pore opening and anti acne properties. I would also try grapefruit.

To the gelatin and oil, at 2 tbs of milk. Stir it around until it is moist all the way through. It will be clumpy.

Microwave it for 10 seconds. It should come out non-clumpy. If not, zap it for another 5 seconds. Stir vigorously.

The mixture hardens pretty quick, so while you still can, slather it in a thin layer all over your face. Avoid eyes and eyebrows, as it does pull fine hairs.
Once the mask is stiff and dry (you'll know, trust me) peel it off a little bit at a time.
Gently rinse off any bits you missed, and apply a moisturizer.
I got to tell you- I love this recipe! Its something so easy I can whip it up in an evening when I want a spa treatment. I regularly take it out during "girls night" with my friends. Its the perfect party peel mask!
Check out my other Beauty Related posts!
The following two tabs change content below.
Kayla Domeyer
My name is Kayla and I am a Graphic Designer. That means that I love pretty things, and also that I like to make free printables! I'm so happy that you've stopped by to visit my blog, and I hope you will follow me on
Facebook
,
Twitter
,
Google +
,
Pinterest
or
Instagram
!! (Yeah, and I'm totally addicted to the internet).
Latest posts by Kayla Domeyer (see all)