Oh man, I am happy to be facing down the barrel of Friday. Its not been too bad around here lately, but after my post about Who I Want to be, and some of the self reflection I've been doing, I'm excited to spend the weekend cleaning up ad getting my life in order. Somehow that always makes me feel good. I've made a lot of crafts this week, and I'm slowly trying to sift through the pictures and add them so I can share them all with you.
Speaking of sharing- this Sweet Sharing Monday had a LOT of link ups! That was just the sort of pick-me-up that makes me feel like this whole blogging thing is worth doing. And it makes me so happy.
Enough about me – onto the praise!
Sweet Sharing Monday Most Clicked:
Faux Capiz Shell Chandelier – by Ruthy at Discovery Street
I am just so enamored with this I can't express it all. It makes my arms and fingers itch to go make one of my own! But Ruthy- she tells it straight. This little bugger took her MONTHS of what sounds like very, very hard work. So while hers is obviously freaking gorgeous and I'm totally jealous… I might not be running out to make on any time soon.      (Besides, I think the cats would eat it. )
And my Personal Favorite:
Hazelnut Chocolate Peanut Butter Cups – by Hannah at Eat. Love. Inspire.
What a bummer. Here I am trying to eat well and THESE amazing looking candies make their way onto my linky party. Well, that's ok. Because while I do believe in being healthy, I don't believe in denying myself all the things I like forever. That's just setting myself up for failure. And home-made sweets are sweets that I can alter, scrimp, change or otherwise make healthier. Or, like in the case of these amazing looking little bites, just make them like they're meant to be and only have one. =D
If you were featured don't forget to grab a button!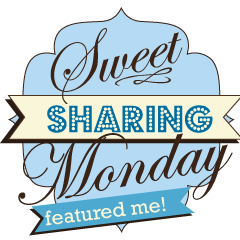 The following two tabs change content below.
Kayla Domeyer
My name is Kayla and I am a Graphic Designer. That means that I love pretty things, and also that I like to make free printables! I'm so happy that you've stopped by to visit my blog, and I hope you will follow me on
Facebook
,
Twitter
,
Google +
,
Pinterest
or
Instagram
!! (Yeah, and I'm totally addicted to the internet).
Latest posts by Kayla Domeyer (see all)