Well hello out there in bloggyland! I'm speaking to you from a disembodied scheduled post this time. Yeah, I knew I wouldn't be around today so as soon as the party ended yesterday I plopped down like an oh-so-good blogger and prepped this post! So, while I'm here, I'm not *really* here.
Anyhoo- can you say HOORAY!? I cant hear you. Try again. Ready? HOORAY!!
Yup, that's right! Sweet Sharing Monday hit an ALL TIME high of over 100 links! I'm so overwhelmed with gratitude and joy to everyone who links up. You see, I started this party feeling like there is no way anyone would bother coming to MY blog to link up. Slowly but surely our audience has been growing! Hopefully you're all seeing some traffic and comments from here too.
Its all about the community. The more time I spend working on my blog, the more I want to look at others. I want to see what people do, what their passion is, what drives them. This bloggy world isn't all that big, but its full of wonderful people. Every heartfelt comment, every "like" and every "pin" encourages another person to keep doing what makes them happy.
Let's face it. WE ROCK!
Don't forget to grab a button!
Sweet Sharing Monday Most Clicked:
Nutella Fudge – by Jennifer at Not Your Momma's Cookie
Jennifer and I are best friends. She might no know it yet but its true. You see, I love Every.Thing.She.Makes. This is no exception! I love Nutella, and this fudge looks SO easy! I'm not a huge fan of fudge because I've never really bee good at making it. But this, I might have to try. I wonder if I could pair it with Nutella cookies and other Nutella treats for a Christmas gift? Hrm…
And my Personal Favorite:
30 Minute Yeast Rolls – by Sam at Atkinson Drive
I love yeast rolls. I love the texture, the flavor, the smell. Each major holiday my hubby makes around 60 rolls to bring to our various family gatherings. They are a huge hit and I love them to death. But they take hours. Then suddenly, I'm cruising around the internet and I spy this recipe! Imagine! Yeast rolls for dinner. Tonight. The possibility is mouth watering. Thanks so much Sam for sharing- I can't wait to try.
If you were featured don't forget to grab a button!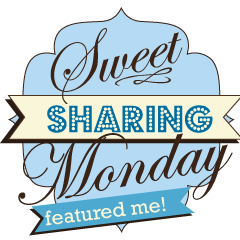 The following two tabs change content below.
Kayla Domeyer
My name is Kayla and I am a Graphic Designer. That means that I love pretty things, and also that I like to make free printables! I'm so happy that you've stopped by to visit my blog, and I hope you will follow me on
Facebook
,
Twitter
,
Google +
,
Pinterest
or
Instagram
!! (Yeah, and I'm totally addicted to the internet).
Latest posts by Kayla Domeyer (see all)