Well, after struggling all week to repair some weird glitch in my blog that kept me from uploading photos- I'm back. Sadly, its now WAY too late to post last weeks tutorial (I'll use it for this week), and Fave Five is out too (I'm actually rethinking that series, think I'll move it to Tuesdays…) but the ONE post I was able to do this week was Sweet Sharing Monday. And I am so glad I did. Thankfully, the way inLinkz works, none of the photos actually had to be uploaded to my site, so I was still able to host the party and see all of the wonderful things you all have done. Its really such a treat to go through and look at them all. What a talented bunch!
Now onto the praise!
Sweet Sharing Monday Most Clicked:
Part of my art degree in Graphic Design featured printmaking. Out of all of the college classes that I miss, that is one of the biggest. There was just something magical about etching a copper plate, and running it through the massive printing press. I still do a little screenprinting now and then- and I do my nails with Konad nail image plates (which are pretty much intaglio printing plates). So I was pleased to see Rachels practice print in the party- as I LOVE the idea of exploring how to do prints at home.
And my Personal Favorite:
DIY Fluted Cake Stand – by Vixen a Vixen Made
I've seen a lot of DIY cake plates. For the most part they are all lovely. But this super cute rendition on Vixen Made just takes the cake (pun intended)! The tart pan she uses on the top really makes this stand look high brow and posh. I also love her choice of white- something about white dishes just really speaks to me.
If you were featured don't forget to grab a button!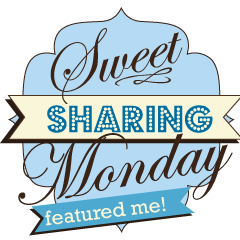 The following two tabs change content below.
Kayla Domeyer
My name is Kayla and I am a Graphic Designer. That means that I love pretty things, and also that I like to make free printables! I'm so happy that you've stopped by to visit my blog, and I hope you will follow me on
Facebook
,
Twitter
,
Google +
,
Pinterest
or
Instagram
!! (Yeah, and I'm totally addicted to the internet).
Latest posts by Kayla Domeyer (see all)