What a week- I've looked through ALL of the fancy dancy projects you linked up- and I'm so tickled! This week I helped throw a Wedding Shower at my workplace, nothing big but it was fun! Sometimes its just one little event that gives you something to look forward to and look back on that makes a week a good one. =D Sometimes its just messin around on the internet and finding so many awesome things. Or people. Or both- like you guys and your links!
Now onto the praise!
Sweet Sharing Monday Most Clicked:
Petaled Satin Flower – by Maysem at Ode to Inspiration
Often times I walk into a boutique expecting to window shop and walk out with a pretty hair fascinator. More often than not its some sort of fabric flower. With this lovely fabric rendition on Ode to Inspiration, I can cut out the middle man! The tutorial shows the layering technique and the flower start to finish- perfect for hair clips, purses or pretty much anything else!
And my Personal Favorite:
Coffee Tray – by Lori at The Stonybrook House
I don't drink coffee. I know, I know I often wonder how I do it but I just don't. Now, coffee mixed with a ton of chocolate syrup and milk is something I can drink. ;D Still, I don't have to be a coffee drinker to appreciate this clever problem solver. Lori is just so ingenius! This upcycled frame is just darling. I can imagine using it at my office in our communal area. For some reason our coffee section is *always* a giant mess. This would help contain some of the clutter, while looking super cute in the process. =D
If you were featured don't forget to grab a button!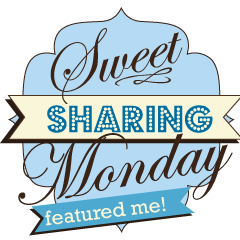 The following two tabs change content below.
Kayla Domeyer
My name is Kayla and I am a Graphic Designer. That means that I love pretty things, and also that I like to make free printables! I'm so happy that you've stopped by to visit my blog, and I hope you will follow me on
Facebook
,
Twitter
,
Google +
,
Pinterest
or
Instagram
!! (Yeah, and I'm totally addicted to the internet).
Latest posts by Kayla Domeyer (see all)