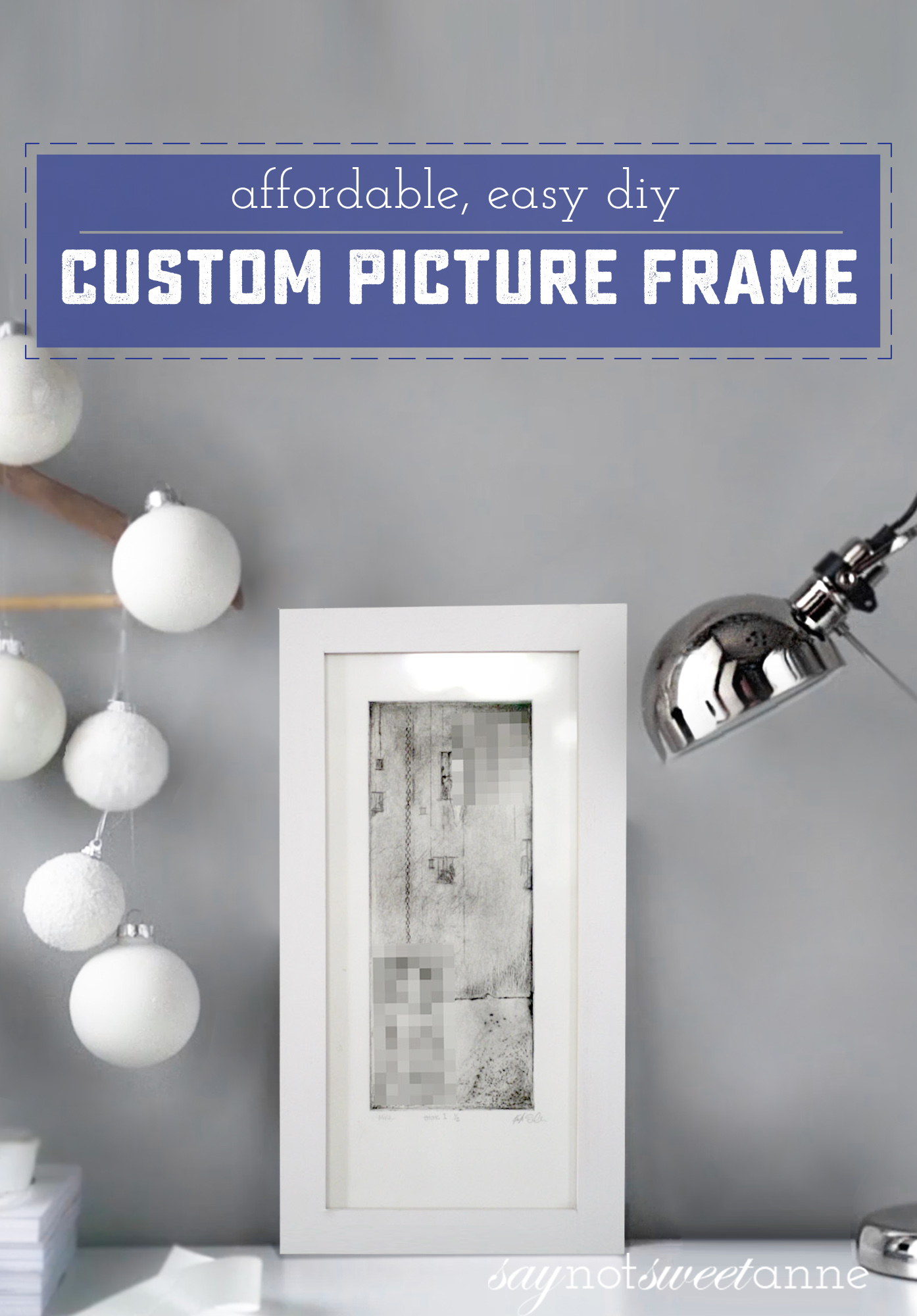 Let's face it. Not every pretty thing fits in an 8×10 frame. Heck, not all of them are a proportional rectangle. Some are square, some are wide and squat, some are tall and skinny.
I've had this beautiful art print for years that I just haven't been able to find a frame for (I blurred bits of it for copyright stuff). It's a strange size and since I wasn't going to have it custom framed for a small fortune, it has been sequestered to a box in a closet. Recently, I resolved to figure out how to build a picture frame for that lovely print, and I'm so glad I did! As a result I was able to build a picture frame that showcases my lovely print.
Really, making my own DIY picture frame was SO easy and actually cheaper than buying a frame at a department store. And there's a bonus; some of the screws and such I bought are left over, and I can make another frame if I just get more molding and glass. I KNOW I will be using this little trick again!
The basic premise is to stack molding to substitute the routered groove that the back of most frames have. My molding was about 40 cents a foot. I know there is such a thing as picture molding, that has that routered groove built in. I wasn't able to find any, so I improvised!
What You Need:
Hand saw and miter box (This helped me cut straight. Also, if you are so inclined, you can make 45 degree angles on the corners with this)
Wood glue
Heavy duty stapler and 1/2 inch staples
Turn buttons (You might find these near the glass section at your hardware store. I got mine on Amazon.)
Screws, if those with your Turn Buttons are too long.

Picture mounting brackets
Cardboard for backing
Glass or plexi (I hear Lowes will cut the glass you buy there. I cut mine myself. 14×16 inches was $4)
A length of a wide flat molding.
A length of a less wide flat molding.

How To Make It:
First of all, calculate the WIDER molding. The way we're going to be doing it, the top pieces are as long as you image is wide. The side pieces are the length of the image PLUS the thickness of the top pieces. The diagram below shows it better.



Cut your wide molding to length using the miter box and hand saw. Sand all edges a bit to make sure they look polished.
In addition to the wider molding – we're going to use a narrower piece on top. The long pieces will be the same as they were for the wide molding, but your top and bottom pieces will have to make up the difference in thickness. I just held it up to the glued wider frame and marked it. I did this the reverse way on mine, but I think this way is better. Do as I say not as I do!!


Glue the narrower molding pieces to the edge of the wide frame. This leaves an inset area in the middle for the glass and backing to rest. Use the staple gun to staple across the joints. My staples went through the narrow molding a little bit into the wide molding without going all the way through (1/2 inch staples)
Color your frame however you like. I used white flat spray paint.
Place clean glass in the inset. Put image on top as in a normal frame.

Cut a piece of cardboard to work as the backer for the whole thing.

Install the turn buttons. The screws mine came with were too long, so I had to use shorter. These allows you to change the picture, clean the glass etc and then put everything back.

I used a "self leveling" picture hanger to hold my frame up to the wall.

And That's it!! All in all this project took very little time and I am SO HAPPY to finally have this piece framed!! Now I don't have to fuss about buying great finds from the local art students or artists, since I can frame them at home!
Note that this is NOT archival framing.  There may eventually be some fading, some yellowing, or possible sticking to the artwork in this frame. However, I think for the average person, if archival is what you're going for, professional framing the way to go. There is a significant investment in archival tape, mats, mat cutters, acid barrier frames and UV resistant glass.
The following two tabs change content below.
Kayla Domeyer
My name is Kayla and I am a Graphic Designer. That means that I love pretty things, and also that I like to make free printables! I'm so happy that you've stopped by to visit my blog, and I hope you will follow me on
Facebook
,
Twitter
,
Google +
,
Pinterest
or
Instagram
!! (Yeah, and I'm totally addicted to the internet).
Latest posts by Kayla Domeyer (see all)