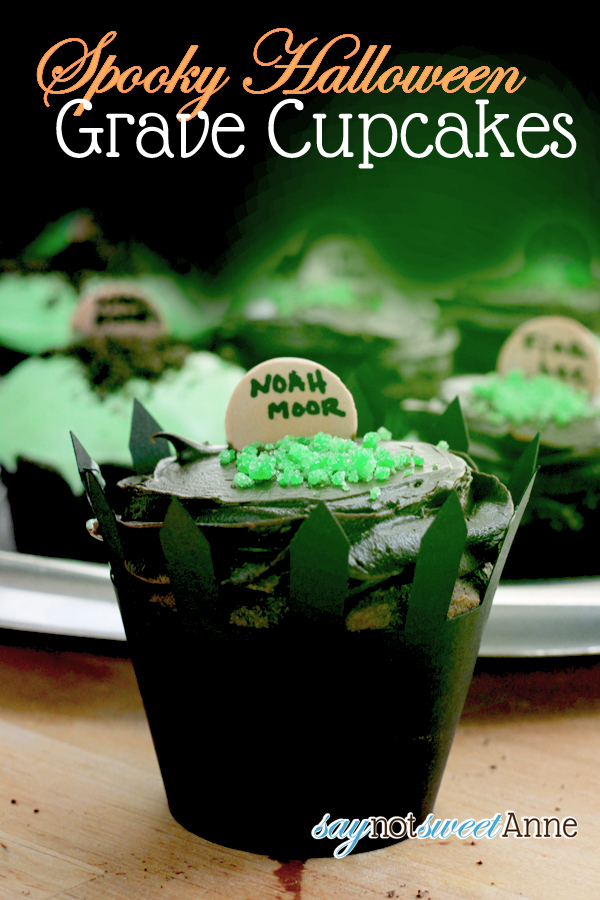 I wonder some times, if I'll ever run out of crafty ideas supplied by my mom. When I think of all the cool stuff she came up with before the age of the internet, I can't help but me amazed!!
For example, when I was in 4th grade, Mom helped with our class Halloween party (I remember it well. I was Pippy Longstocking.) and part of her duty was to bring a treat. But my mom didn't bring just any treat. Oh no. She used a few simple and easy to find items to make an awesome cupcake graveyard. She even decorated a box with a metal gate and tin foil fence to complete the look.
So, I'm passing my mom's amazingly easy and impressing Halloween cupcakes down to my little sister – and to you.
My sister is awesome, and she made for a great helper! Together we made Mom's original version (with chocolate frosting and green sugar) and our own version (green frosting and crushed Oreos). Instead of Mom's awesome box fence, I made some fence style cupcake wrappers with my Silhouette. I'm sharing that file too!! (Studio File Here | SVG File Here )
What you Need:
Chocolate cupcakes. I'm no baker, so I used a box mix.

Green Sugar (I made mine, the same way I did for Creeper Marshmallows)

Crushed Oreos (Try putting them in a stand mixer with the mix blade. Worked for me!)

Necco Wafers (I picked out the dark colors. You could use them all)
Food Safe marker (optional, I got mine from Amazon)
Frosting (I used chocolate and creamcheese dyed green)
How To Make Them:
Pipe some frosting onto the cooled cupcakes. I really loved having an helper in the kitchen! I have to do that more often! (That's my sister in all these pictures! She's becoming quite the frosting Pro!)




Flatten the top of your frosting. It should look like mounded earth.
Sprinkle either the green sugar or the crushed Oreo onto the cupcake in the center.
Using a food safe marker, write some funny grave sayings on the top half of a Necco.


Some of our sayings:
IM Ded
RU Next
Noah Moore
Fina Lee
MT Tomb
IM Sick
Phil Dirt
CU Layder
Al Dunn

I'm sure you can think of more!!
The following two tabs change content below.
Kayla Domeyer
My name is Kayla and I am a Graphic Designer. That means that I love pretty things, and also that I like to make free printables! I'm so happy that you've stopped by to visit my blog, and I hope you will follow me on
Facebook
,
Twitter
,
Google +
,
Pinterest
or
Instagram
!! (Yeah, and I'm totally addicted to the internet).
Latest posts by Kayla Domeyer (see all)