September. Yeah. Say it with me. It is now SEPTEMBER. Can you believe that!?
On one hand, I'm terrified. The Holiday season is screaming at me in a pace I can't remember ever having dealt with before. I've got so much to do, so many projects to finish up, so many homeowner's tasks to complete before winter. So much traveling, shopping, spending! I'm not sure if I'm ready.
On the other hand, its almost time for apple cider and cinnamon donuts. I can carve pumpkins and for the first time ever, get trick-or-treaters!! Then I will get to spend time with family around delicious food and high spirits. Snowfalls, and the city comes alive with colorful lights and the quiet of winter. It's so exciting!!
How about you? How are you feeling about the year slipping away so fast? Anything you are dreading/looking forward to? Tell me about it! Oh, and tell me about the amazing antics you've been up to. I can't wait to see what you've done?
Just FYI- since I love you all so much, I wanted to let you know I'm going to make a deliberate effort to promote the posts in the party more on my social media outlets. You deserve all the attention I can give you!!
Also, if you want a reminder email when the party goes up – sign up on the right side bar!
The party is after the features!!
Sweet Sharing Monday Most Clicked:
10 Ways to grow your FB Fanpage by Beauty Through Imperfection

Most bloggers have a Facebook page, and we are all looking to get more likes! Some of these are really easy, and that means I'm more likely to implement them. There is a lot of great info in here, and I'm pinning it to reference!
And my Personal Favorite:

Paper Book Pumpkins by Upcycled Treasures
I've seen a couple things like this around, but never any with great instructions. Katie does a great job of showing how this is done, with amazing pictures to boot! Pinned!
If you were featured don't forget to grab a button!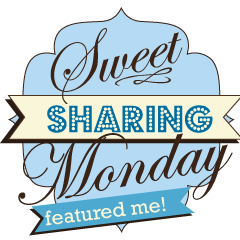 Enough! Let's do some Sweet Sharing!
Don't forget to Check back on Thursday to see which link was the most viewed!

To link back to the party- just copy & paste this code onto your blog!
The following two tabs change content below.
Kayla Domeyer
My name is Kayla and I am a Graphic Designer. That means that I love pretty things, and also that I like to make free printables! I'm so happy that you've stopped by to visit my blog, and I hope you will follow me on
Facebook
,
Twitter
,
Google +
,
Pinterest
or
Instagram
!! (Yeah, and I'm totally addicted to the internet).
Latest posts by Kayla Domeyer (see all)