Its that time again everyone! I've been out of town all weekend, so I'm really not feeling the whole "work" vibe for Monday. I'd rather get some relaxation in that I missed the last couple of days. But- I did get to see my little sister for her (gasp!) 13th BIRTHDAY! Yeah, She's officially a teenager! Also, my Grandpa turned 76 this week, so of course a little family hob knobbing was in order. I did manage to get a post up sharing the oh-so-adorable Cupid Dice. Have a look!
How about you!? What have you been up to?
Also, if you want a reminder email when the party goes up – sign up on the right side bar!
The party is after the features!!
Sweet Sharing Monday Most Clicked:
Dollar Bill Heart by Crafty Journal
Sometimes, you just want to give money. This isn't usually my first route, but for small birthdays, or Tooth Fairy visits, Graduation parties- money is expected and totally OK. But what's even cooler than money? Pretty, heart shaped money. Its what they want- but you get to show them you thought about it enough to make it pretty!
And my Personal Favorite:
Portabella Pizza by Not just a Mom
These past few weeks of house buying stress, plus the Michigan Mid-Winter blahs, and other various drama have left me feeling yucky. I've eaten poorly, and totally neglected to do ANY form of exercise. So, thinking ahead to the next few weeks, I'm pinning this! Hubby and I LOVE pizza. We make home made pizza about 3 times a week. And while its not processed, it is heavy. This seems like a light alternative- I can't wait to try!
If you were featured don't forget to grab a button!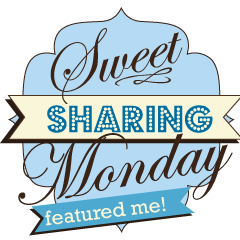 Enough! Let's do some Sweet Sharing!
Don't forget to Check back on Thursday to see which link was the most viewed!
To link back to the party- just copy & paste this code onto your blog!
The following two tabs change content below.
Kayla Domeyer
My name is Kayla and I am a Graphic Designer. That means that I love pretty things, and also that I like to make free printables! I'm so happy that you've stopped by to visit my blog, and I hope you will follow me on
Facebook
,
Twitter
,
Google +
,
Pinterest
or
Instagram
!! (Yeah, and I'm totally addicted to the internet).
Latest posts by Kayla Domeyer (see all)