Happy Monday everyone! Its the last week before Easter and you know what that means! Four day week for me!! ♥ I've got Good Friday off but hubby doesn't, so I'll be chillaxin' the day alone and we'll head off to our home town in the evening. Still- going to be a very nice trip, seeing family.
I've done little this weekend but fret over our house buying. We passed the inspection and are waiting on the appraisal. Who knew this was going to be such an emotional drain? Everyone. Everyone knew that. Doesn't make it any better. By the way, did you check out my super-fun birthday countdown free printable? Hubby's birthday is coming up.
Back on subject- what have you been doing? Got some awesome projects to share? Lets get to it!
Also, if you want a reminder email when the party goes up – sign up on the right side bar!
The party is after the features!!
Sweet Sharing Monday Most Clicked:
Edible Poisson D'Avril
What a funny little fish! For those who weren't aware this french version of April fools is a very old tradition and began with sticking paper fishes to a person's back. Still today in France instead of "April fool" you are an "April Fish." What a neat way to celebrate the tradition through food!
And my Personal Favorite:
Four Drawer Dresser re-do
I'm all about redoing furniture lately. Preparing to move into a bigger space, we've decided to finally tackle some of our organizational issues. That means, another dresser and some other pieces  But why buy new when there are so many beautiful, well built pieces out there to repurpose and restore? What a perfect example with this amazing dresser!
If you were featured don't forget to grab a button!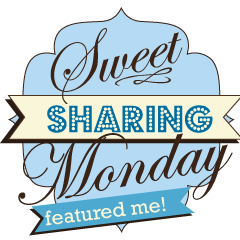 Enough! Let's do some Sweet Sharing!
Don't forget to Check back on Thursday to see which link was the most viewed!
To link back to the party- just copy & paste this code onto your blog!
The following two tabs change content below.
Kayla Domeyer
My name is Kayla and I am a Graphic Designer. That means that I love pretty things, and also that I like to make free printables! I'm so happy that you've stopped by to visit my blog, and I hope you will follow me on
Facebook
,
Twitter
,
Google +
,
Pinterest
or
Instagram
!! (Yeah, and I'm totally addicted to the internet).
Latest posts by Kayla Domeyer (see all)