You know, I wonder how many times in a Sweet Sharing Monday intro I have said the words "I can't believe its already…" I know I said it in September, and I was just about to write it now that we're headed into October. I don't remember feeling this way last year. Perhaps its because of the house buying, all the renovations and big changes going on in my life right now. Time is flying!
I've been on top of things this week though! Did you see my Under $20 DIY Knight Costume? We had a blast at the Ren Fest Wearing our costumes. It was like a preview for Halloween! I'm already punmped and getting ready to decorate!
So, I've really been looking forward to seeing all of your awesome projects. Come link up!
Also, if you want a reminder email when the party goes up – sign up on the right side bar!
The party is after the features!!
Sweet Sharing Monday Most Clicked:
Grasshopper Guts by A Pinch of Joy

I'm a big fan of this sort of treatment on Chow Mein Noodles. Add in Peanut butter and butterscotch and I am in heaven!! I wonder if I could color them pink and call them worms for Halloween?
And my Personal Favorite:

Fall Leaf Doily Packaging by Ode to Inspiration
These are so super cute and easy! I end up baking a ton in the fall season, more out of a homey feeling than hunger. So, I usually give it away. This is a super sweet, simple and elegant way to dress them up before handing them out!!
If you were featured don't forget to grab a button!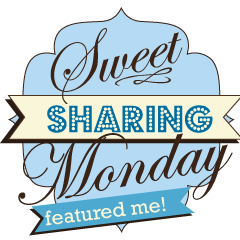 Enough! Let's do some Sweet Sharing!
Don't forget to Check back on Thursday to see which link was the most viewed!

To link back to the party- just copy & paste this code onto your blog!
The following two tabs change content below.
Kayla Domeyer
My name is Kayla and I am a Graphic Designer. That means that I love pretty things, and also that I like to make free printables! I'm so happy that you've stopped by to visit my blog, and I hope you will follow me on
Facebook
,
Twitter
,
Google +
,
Pinterest
or
Instagram
!! (Yeah, and I'm totally addicted to the internet).
Latest posts by Kayla Domeyer (see all)