Happy Monday everyone! This Monday is veteran's day here in the US. Are you or anyone close to you a Vet? Tell them thanks for me!
Hubby has been plugging away at our Kitchen counters, and I've been busy making Caramel Apple Salad and working more on the 2014 Planner Junior Size. I also recently found out i have a bacterial infection on my fingernails. Every one of them has dark green spots. So, here's a pro tip for you: If your nails are starting to turn green, its bacteria. Strip off all your polish/accents and disinfect with rubbing alcohol. If any of your nails hurt, see a doctor. That is, don't do what I did, which was put on some pretty dark polish and 4 layers of glitter to cover up and ignore it for 2 weeks. :/
Anyhoo, how is your November going so far? I can't wait to see all of what you've come up with lately!!
Also, if you want a reminder email when the party goes up – sign up on the right side bar!
The party is after the features!!
Sweet Sharing Monday Most Clicked:
How sweet are these varied height stands!? Rhonda found something on pinterest that inspired her,and made it her own! I think they turned out beautifully.
And my Personal Favorite:

Mat & Spray paint fail by Urbane Jane
This post made me giggle. Sometimes, the ideas we think up in our heads just don't quite execute the way we'd hoped. I actually thought about spraypaint when doing my recent how to Paint a Rug post, but decided against it due to overspray. Jane has convinced me I did the right thing! Still, she has plenty of non-fail projects. Go check them out!
If you were featured don't forget to grab a button!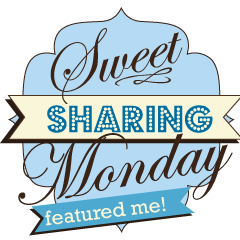 Enough! Let's do some Sweet Sharing!
Don't forget to Check back on Thursday to see which link was the most viewed!

To link back to the party- just copy & paste this code onto your blog!
The following two tabs change content below.
Kayla Domeyer
My name is Kayla and I am a Graphic Designer. That means that I love pretty things, and also that I like to make free printables! I'm so happy that you've stopped by to visit my blog, and I hope you will follow me on
Facebook
,
Twitter
,
Google +
,
Pinterest
or
Instagram
!! (Yeah, and I'm totally addicted to the internet).
Latest posts by Kayla Domeyer (see all)