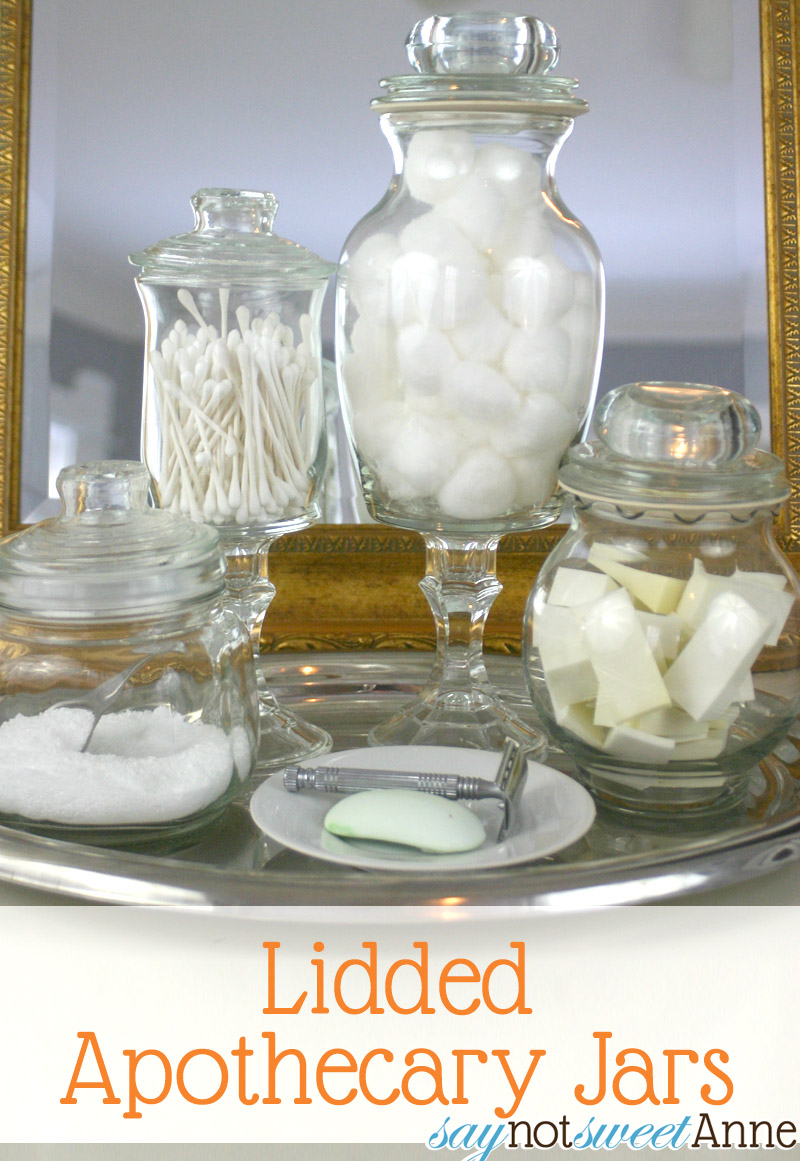 One of the trends that has been floating around the crafty/home decor world lately are home-made apothecary jars. And why not? The real thing is really expensive, and most of us can't justify that cost for a little decor when we can do it ourselves for almost-free. But, some of the variations I have seen were lacking something for me.
Real jars vary in their height and size. Most of the DIY jars use candle sticks for the base, so they can't really be any shorter or longer. Also, real jars have lids. Usually knobbly lids with a nice round handle on top. Again, the DIY versions often use vases for the vessel, and thus are lid-less.
Not any more! I scoured The Dollar Tree, interchanging parts from one thing to another, stacking vases onto lids onto jars to see exactly what my options were. Using what I learned from my Dollar Store Candy Bar post,  For under $10 in glass and some E-6000 glue, I have some apothecary jars that I am proud of. They are all shiny,  reflective glass with varying height and lids. What do you think?
I'm in the process of buying a house- and I've already got these earmarked for our new bathroom. ♥
What I used:
Large Glass Vase (1)
Medium Glass candle holder (2)
Pack of 2 glass tealight holders (4)
2 clamp sealing jars (3)
2 ribbed/lidded jars (7)
Scalloped edge vase (6)
Two taper holders (5)
E-6000 glue
How To Make It:
First thing is first, remove all those white stickers. I did this with a razor blade and followed up with some nail polish remover.
Make your lids. For me, that involved removing the lids from the clamp jars (3). (I just used some pliers to un-do the wire) And then gluing one of the tea light holders (4) to it.
For gluing:make sure to prep both surfaces with alcohol to ensure no oils to prevent bonding. Follow the instructions on your glue.

The lid from this jar…

With this tea light holder glued on top…

Became this lid!

Once this lid was dry, I plopped it onto the scalloped vase (6) and voila! One of my jars was already done! This is my 2nd shorted jar in the set (Remember how I wanted varying height?) I made another lid in this same manner, and set it aside.

Next for the tall jars. This was really easy. I just glued one of the candle sticks (5) to the bottom of the large vase (1) and the medium candle holder (2). The large vase is my tallest apothecary jar. I got the second lid that I made, popped it on top and it was done!
The medium candle holder, now with its glued on base, becomes the second tallest height in the set. It needed a lid though, so… I cheated on this one and simply swiped the lid off of the ribbed jar (7). It fit well and already has a pretty glass knob.
Finally, for the shortest jar in the collection, I went back for the bottom of one of those clamped jars (3). I paired the bottom with the lid from the other ribbed jar (7), and done! Four totally new creations all from Dollar Store items!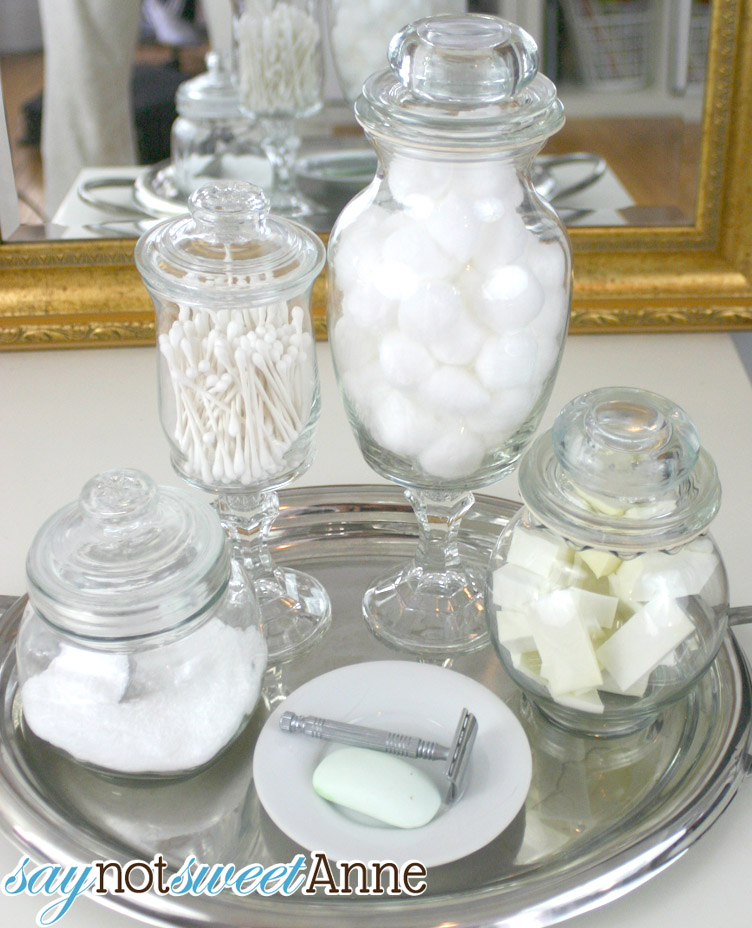 The following two tabs change content below.
Kayla Domeyer
My name is Kayla and I am a Graphic Designer. That means that I love pretty things, and also that I like to make free printables! I'm so happy that you've stopped by to visit my blog, and I hope you will follow me on
Facebook
,
Twitter
,
Google +
,
Pinterest
or
Instagram
!! (Yeah, and I'm totally addicted to the internet).
Latest posts by Kayla Domeyer (see all)