Holy freaking cow. I know that a lot of SSM parties start with me expressing my shock at the time of year. (Seriously, I would bet that 8/10 begin that way.) But I am dumbfounded that August is half over. September is nipping at our heels! School is starting! Leaves are threatening to turn!
I think maybe I have some disease where the passage of time just flows over me until I sit down to write this party and the weight of the whole year threatens to suffocate me. Where has the time gone?
Anyhoo, I made some aged paper this weekend for a project of hubby's. It is really cool and printer friendly. be sure to check it out!
[question]Woo! Up 300% with 100 clicks in last party. But…. that's still only .5 clicks per link up. C'mon peeps, be a bro. Share the love![/question]
Also, if you want a reminder email when the party goes up – sign up on the right side bar! The party is after the features!!
Sweet Sharing Monday Most Clicked:
Oh, Roxanna. When are you coming to my house with that amazing platter of goodness? Seriously though, I can see why this was the most clicked this week. I love the idea of hosting a party like this but I wouldn't know where to begin. Until now!
And my Personal Favorite:
Maybe I'm an on a stationary kick.  I don't know for sure but Mandee's post sure got my attention! Not only am I a list maker, but I have proven to myself time after time that I will use things more if they are custom and cute. This sweet idea is definitely on the "list"!
If you were featured don't forget to grab a button!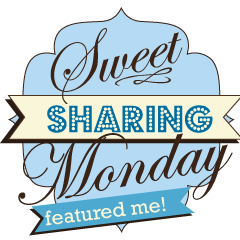 Enough! Let's do some Sweet Sharing!
Don't forget to Check back on Thursday to see which link was the most viewed!
To link back to the party- just copy & paste this code onto your blog!
The following two tabs change content below.
Kayla Domeyer
My name is Kayla and I am a Graphic Designer. That means that I love pretty things, and also that I like to make free printables! I'm so happy that you've stopped by to visit my blog, and I hope you will follow me on
Facebook
,
Twitter
,
Google +
,
Pinterest
or
Instagram
!! (Yeah, and I'm totally addicted to the internet).
Latest posts by Kayla Domeyer (see all)