Happy Monday!! I've had a busy weekend attending my uncle's wedding, and then dealing with  a water main break down our street (say hello to 4 inches of solid ice on most of the driveways and sidewalks). But things are settling down this evening and I'm ready for work tomorrow.
Did you see my DIY Mineral Foundation? I'm so giddy about it, I can't wait for someone else to try it! I even mixed it with a little of my DIY face cream to use as an emergency concealer this weekend. (I always forget something when I travel.)
Anyhoo, I want to see what you've been up to this week! Share 'em!
Also, if you want a reminder email when the party goes up – sign up on the right side bar!
The party is after the features!!
Sweet Sharing Monday Most Clicked:
Ha! We must all be looking for healthier, happier us, since the top clicked post is about green smoothies! Anyway, I know I would appreciate being able to drink a smoothie without chewing. I am very sensitive to texture. Thankfully, Diane has it all figured out. =D
And my Personal Favorite:
Great minds MUST think alike. My anniversary is coming up this week and I was JUST WORKING on a printable love-note anniversary type thing to go in an altoids tin. Looks like she beat me to it- and look how pretty!
If you were featured don't forget to grab a button!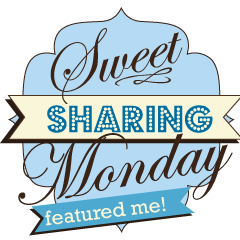 Enough! Let's do some Sweet Sharing!
Don't forget to Check back on Thursday to see which link was the most viewed!

To link back to the party- just copy & paste this code onto your blog!
The following two tabs change content below.
Kayla Domeyer
My name is Kayla and I am a Graphic Designer. That means that I love pretty things, and also that I like to make free printables! I'm so happy that you've stopped by to visit my blog, and I hope you will follow me on
Facebook
,
Twitter
,
Google +
,
Pinterest
or
Instagram
!! (Yeah, and I'm totally addicted to the internet).
Latest posts by Kayla Domeyer (see all)