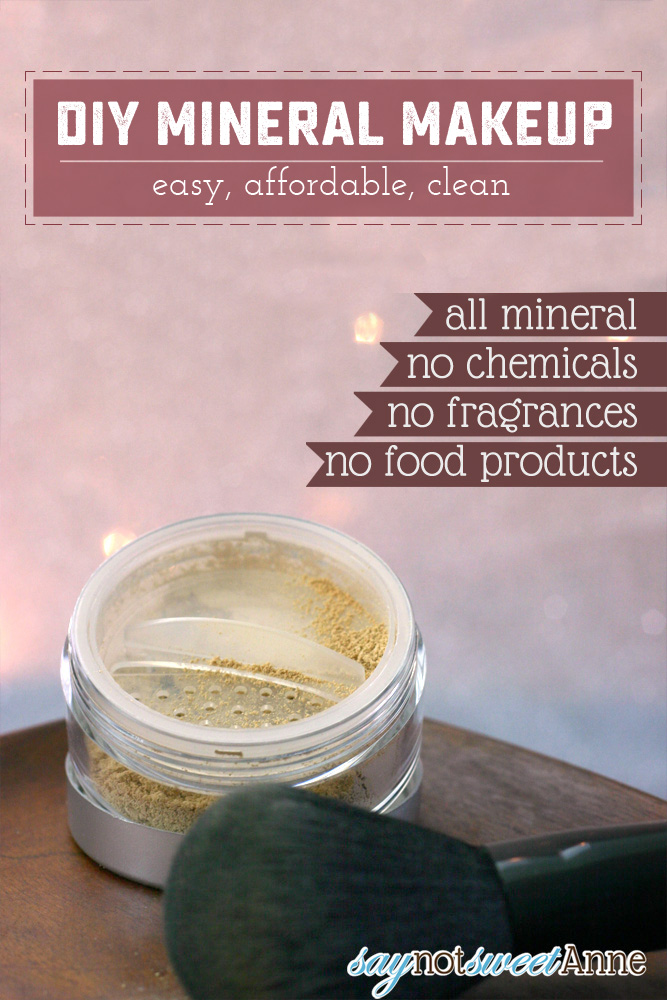 For the past 3 years I have slowly moved away from store bought  beauty products.  I'm not typically one to scoff at preservatives or chemicals, but after years of being on one of those as-seen-on-TV skincare regimens, I finally got sick of their subscription-based products, requiring me to pay for product every few months regardless of my need for it. So, I quit. At first I thought I was in for a lifetime of horrible skin. It turns out, however, that washing with ground oatmeal and honey, a few treatments of my DIY Peeling mask, Honey and oats mask, and moisturizing with my DIY Face Moisturizer worked just as well. More than that, it worked better. I was less broken out, less dry, and less itchy.
So, with my washing regimen all sorted, I decided to tackle my other ball and chain: makeup. For years I've been shelling out top dollar for an all mineral makeup to keep my skin healthy and chemical free. It requires a trip to a big city, trekking through a mall into a high-priced commission-based makeup outlet where I pay more than a fancy dinner for two just to get a 1.5 ounce pot of powder foundation.
Well, if what I'm paying for is just minerals,  why can't I just buy the minerals and mix it myself? I mean, it worked for my cleanser, moisturizer and masks – why not my makeup? Why can't I make DIY Mineral Makeup? I had seen DIY powder foundations before that used things like cornstarch, arrowroot and cocoa powder. But something about foodstuffs on my face makes me worry about breakouts. I wanted minerals.
So I did some research. What I found was that those minerals put in high-priced foundations are highly thought out and purposeful. Some are used for "slipping" – making the makeup go on smoothly. Some are used for reflection, which gives the appearance of radiance and detracts from blemishes. Some are for oil absorption and shine control. Finally, some are for color. After learning all of that, I was feeling that this might be too daunting.
Then, while I was browsing  Amazon, I noticed some minerals from Making Cosmetics Inc, where I've gotten my lotion bottles and applicators for years. It turns out they also sell high-quality pure minerals. More than that, they sell a mineral base blend – with everything but the coloring minerals.  So, I bit the bullet and bought the base blend and a couple of the coloring minerals (I ordered samples of the coloring minerals, about $1 each but there was plenty!).
What I ended up with is amazing. I've officially retired my department store makeup and now This is all I use. I know exactly what is in it, I can tint it based on my summer and winter colors – oh, and did I mention that each 1.5 oz costs me less than 1/3 of that fancy department store brand? Oh yeah. I'm sold.
What You Need:
Mineral Makeup Base from Making Cosmetics Inc
Pigments Blend from Making Cosmetics Inc. You might be in-between blends. Its okay to mix two! (I bought on Amazon, but you can also use MakingCosmetics.com)
Clean, Sterile loose powder pot
Mortar and Pestle (I have this one)
Accurate measuring spoons (as small as 1/8 tsp)
A good foundation powder brush for application (trust me. This makes all the difference for coverage and even coloring.)
How To Make It:
The basic ratio for the Mineral Base to pigment is about 80% base to 20% pigment for Caucasian complexions and up to 30% base to 70% pigment for other ethnicities.

To start, add 1 tbsp of base and 1/4 – 1/2 tbsp pigment to your bowl and mix with the pestle for about a minute and until it all looks even in color.  It might seem unnecessary to mix for so long, but it is.


Test the color on the underside of your wrist. Check it in the sunlight. If it is too dark/bright add another tbsp of base and blend again. Repeat until you like the color.
Um, that's it. Yeah I know – easy right? Once you know your color blend (Write it down!!) you can crank out a new batch in just a few minutes. And, if you are the type who gets darker in the summertime, you can follow this process again to find a new color when needed!
I will say this home made version covers as well as my department store brand.  You can see the difference on my hand. The left side is without foundation and the right side is with. The makeup does smell a little funny though, not bad, just like dirt. Sometimes it comes off as a little acrid. You could add 1 drop off a skin-safe essential oil to scent it, but I was going an all-mineral route and the smell doesn't bother me.
Other Beauty Related Posts:
The following two tabs change content below.
Kayla Domeyer
My name is Kayla and I am a Graphic Designer. That means that I love pretty things, and also that I like to make free printables! I'm so happy that you've stopped by to visit my blog, and I hope you will follow me on
Facebook
,
Twitter
,
Google +
,
Pinterest
or
Instagram
!! (Yeah, and I'm totally addicted to the internet).
Latest posts by Kayla Domeyer (see all)