I've talked before about projects that are all over Pinterest and other social channels. They are the type of thing that I tuck away into my mental file and hope to make for myself one day. They seem almost silly to share as a tutorial, since anyone can Google their way to the same result. Or can they? One of my favorite things to do is sort of "perfect" a long standing concept, like I've done with these DIY Washer Necklaces.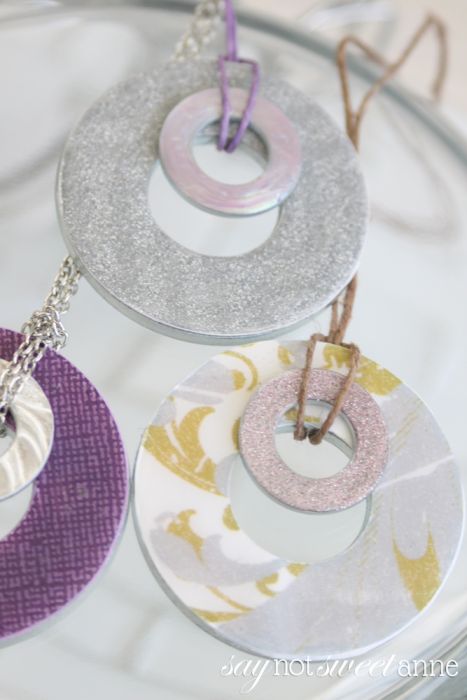 I chose interesting and metal-like papers, paired two different sizes together, and used sandpaper to create a seamless edge on my DIY Washer Necklace. It isn't a huge departure from the hundreds of other methods I've seen, but the result is a bit more refined and high-end looking in my opinion. Try it for yourself and see!
What You Need
Washers, 2 sizes.
Papers to cover the washers.
Elmer's Glue
Mod Podge Dimensional Magic or Glitter/Metallic Nail Polish
Cord or chain
Sandpaper
Scissors
How To Make It:
These necklaces might not be a new concept (kudos to whoever thought it up first!) but I have to say I'm really proud out how refined and upscale mine turned out. There are no sharp edges, no grease stains from the washer, and the Mod Podge really gives them a thick gloss. What ubiquitous projects have you tried for yourself lately?
The following two tabs change content below.
Kayla Domeyer
My name is Kayla and I am a Graphic Designer. That means that I love pretty things, and also that I like to make free printables! I'm so happy that you've stopped by to visit my blog, and I hope you will follow me on
Facebook
,
Twitter
,
Google +
,
Pinterest
or
Instagram
!! (Yeah, and I'm totally addicted to the internet).
Latest posts by Kayla Domeyer (see all)