Are there any better gifts to receive for Mother's Day or Father's Day than a handmade gift from your toddler?  Seriously, some of them are just the cutest!  The next time that your toddler wants to make some crafts, encourage it! Yeah, it might make you "one of those moms", but gifts toddlers can make are some of the best, most unique and heartfelt gifts out there.  Not only do you love receiving them as their parents, but think of all the other family members out there that would love to have some of their homemade crafts as well. These would be great for Mother's day or Father's Day!
The beautiful part of giving toddler homemade crafts is that they are not only simple to make, but they encourage your child to explore their creativity as well.  If you have some birthdays, holidays or special days coming up, why not gift the gift of a homemade kids craft and check out some of the options included.  Each and every one is unique, beautiful and sure to show the receiver that they were handmade with love.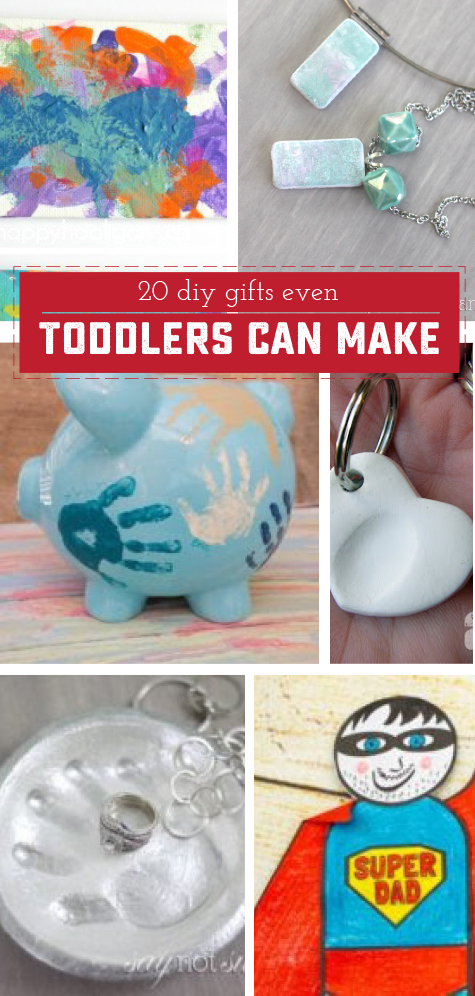 There's just one thing. Before you jump into this incredible list of gifts that toddlers can make – step back. Make sure that you are making this a fun and joyful exercise with your kiddo. After all, the best part about the hand made gift is the love that went into it!
Gifts that Toddlers Can Make:
The following two tabs change content below.
Kayla Domeyer
My name is Kayla and I am a Graphic Designer. That means that I love pretty things, and also that I like to make free printables! I'm so happy that you've stopped by to visit my blog, and I hope you will follow me on
Facebook
,
Twitter
,
Google +
,
Pinterest
or
Instagram
!! (Yeah, and I'm totally addicted to the internet).
Latest posts by Kayla Domeyer (see all)