When I started this Handprint Dish from a hunk of humble salt dough, I had no idea it would become one of my favorite projects. It turned out so sweet, so elegant, and just the perfect little treasure from my darling Squish's first year of life. The vision of his tiny, perfect hand, cradling my wedding ring is one of my favorite sights – and I use the dish every day.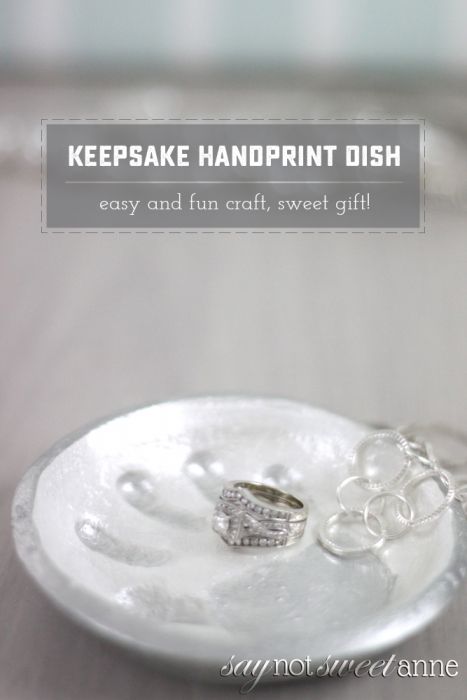 The whole project is really simple, and aside from the oven time – came together really quickly. You can check out my favorite Salt Dough recipe here. Or you can use your favorite.
What You Need:
Salt Dough
Oven
Oven safe bowl
Baby for hand prints!
Sandpaper
Paint
How To Make It:
Roll out your salt dough to a pretty big size, and let baby press his handprint in.

Cut out the handprint, I used a jar lid as a template.
Place the round slab of dough into an oven safe bowl. This will give it its bowl shape.

Preheat your oven to 220° and place the bowl with dough inside on a cookie sheet, and in the oven.
After about 2 hours, the dough should be solid enough to remove from the bowl and let it continue baking on its own (this will help with air flow).
Continue baking until the dish is completely solid and dry. For me, it was about 5 hours.
Once cooled, use sandpaper to sand off any ragged edges and smooth over the texture of the dish.

Paint the dish in your favorite colors. I used a base coat of white, and then pearl White with Pearl Grey highlighting The Squish's handprint.

Done! Look how lovely! The dish should last in a dry area for years to come. The only thing to worry about would be moisture.

I love this adorable Handprint Dish and I think I might make a few over The Squish's lifetime. Sort of a collection of his adorable hands.
The following two tabs change content below.
Kayla Domeyer
My name is Kayla and I am a Graphic Designer. That means that I love pretty things, and also that I like to make free printables! I'm so happy that you've stopped by to visit my blog, and I hope you will follow me on
Facebook
,
Twitter
,
Google +
,
Pinterest
or
Instagram
!! (Yeah, and I'm totally addicted to the internet).
Latest posts by Kayla Domeyer (see all)