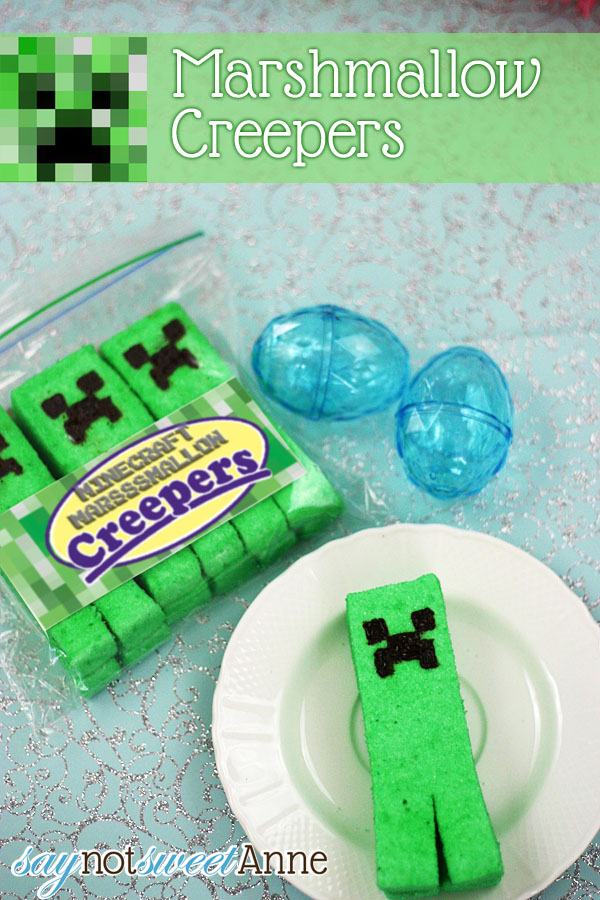 Last April fools day ThinkGeek pulled a prank about Marshmallow Creeps. These were Peeps that looked like Creepers from the popular indie game Minecraft. Well, needless to say it went over well, and people were sorely disappointed to discover that they could not actually purchase them.
For months I've been thinking about making my own marshmallows. So when I remembered these little guys , I knew just what to make! And let me tell you, these were so easy. All this time I was putting off making marshmallows because of the whole boiling sugar part. It was NO BIG DEAL!! So let's get to it shall we?

Ingredients:
3/4 cup green Sugar (instructions on making your own below)

Green food coloring

3 packets of unflavored geletin

1.5 cups of granulated white sugar

1 cup light corn syrup

1 cup cold water (divided)

1 tsp vanilla

Stand mixer 
How to make it:
You're going to need a lot of green sugar for these guys. I opted to make my own, since it's a really easy and a lot cheaper. Start with about 3/4 cup of sugar in your stand mixer with the whisk attachment. Add 30-40 drops of liquid food color and whisk until even in color.



Let the sugar dry out in a thin layer on a pan. It will have lumps, so throw it back in the mixer and whisk until sugar is fine and free flowing.


Set the green sugar aside, its time to start the marshmallows! Prep work is key here. Start by using a spray non stick coating to cover a 9×13 pan and the paddle of a rubber spatula. I also dusted the inside of the pan with green sugar. It turns out it wasn't needed, and changed the texture of the marshmallow a little on that side. If doing it again, I'd omit that step.

Pour half of the cold water into the stand mixer bowl, and add the gelatin packets. I didn't even stir.

In a heavy bottom sauce pan, add the rest of the water, the sugar and corn syrup (I also added some green food coloring). Heat on medium high and stir until sugar dissolves, about 5 minutes. Use a candy thermometer and let the mixture come up to 240 degrees without stirring.

Once the mixture comes to temp, move to the mixer. Turn the mixer on low with the whisk, and slowly pour the hot sugar mixture into the gelatin mixture. Once all if the sugar is in the mixing bowl, turn the mixer up to high.

Let mixture whip until thick and about triple in volume. For me it was 12 minutes. Add 1 tsp of vanilla to the mixture in the last minute of whisking.

Pour the mixture into your prepared pan, using the greased spatula to scoop it out and smooth the top.


Pour some green sugar in the top and leave it alone for at least an hour.


After the marshmallows have cooled, turn the block out into a shallow cookies sheet (this will help you save the sugar) coat the rest of the sides in your sugar. Use a greased pizza cutter to cut it into long rectangle blocks about 3 times taller than they are wide. Coat the naked edges in the sugar.



With a greased knife, cut the legs of the creeper (there are 4), and dust the bare marshmallow with sugar.


Look at the pile of Creeper bodies! That's what you get for blowing up my house!

Once all of your bodies are ready, its time to do the faces! I used chocolate ganash (2tsp chocolate chips to 1tsp heavy cream melted in the microwave) and a toothpick to paint the squares. Start with the mouth, then the eyes, the the frown.




Once your faces are done, you're ready to package! I made a super cute label you can download here. Slip the creepers into a zip lock and either staple the label to the top, or tuck it in with them. Done!

These were so fun to make, I'm brimming with other themed ideas! I could see these at a Minecraft kids' party, or just a special treat For the gamer in your life. They are too funny!
The following two tabs change content below.
Kayla Domeyer
My name is Kayla and I am a Graphic Designer. That means that I love pretty things, and also that I like to make free printables! I'm so happy that you've stopped by to visit my blog, and I hope you will follow me on
Facebook
,
Twitter
,
Google +
,
Pinterest
or
Instagram
!! (Yeah, and I'm totally addicted to the internet).
Latest posts by Kayla Domeyer (see all)