There are a lot of edibles that can be taken up a notch with some beautiful, colored sugars. These sugars are readily available in a lot of baking supply stores but can be up to $1 an ounce! Of SUGAR!? So for years, I've been making my own colored sugars. You can see them at work in my Minecraft Marshmallow Creepers and my Halloween Cupcakes.
How to make colored sugar is touched on in those posts, but I decided that it deserved its own post, so you can tuck it away in your bookmarks until needed. You see, the possibilities are endless! If you're like me, once you make a color or two, you'll find yourself making TONS of them! You can't have too many colors of sugar…. right?
What You Need:
Plain table sugar.
Food coloring. Liquid is easiest, but I've been known to use frosting gel colors in a pinch.
Hand or stand mixer.
Jars for storage.
Oven and shallow metal pan (optional).
How To Make It:
This is the sort of thing that I'm sure there are a lot of variations of. But here is how I make mine. Place 1/4 cup of sugar in the bowl of your mixer. Add 4-6 drops of food coloring.

Mix with the whisk attachment until the color is even. If there are a few clumps of color, use the back of a spoon to crush them up, then whisk again.

Depending on how much coloring you added, the sugar might be a little too wet to store (unless you like clumpy sugar). If this is the case, lay the sugar out in a shallow pan and put in your oven on 200º. Check it at 5 minute intervals until it feels dry. If it is clumpy, just add it back to the mixer to break up.

That's it! Store your sugar in an air tight container until you need it!
[question]If you want to use Wilton or other brand frosting gel colors, simply dissolve a bit of the gel in a tsp of water. It will definitely over-wet the sugar and you'll need to use the oven step, but they often come in more colors so I use them often![/question]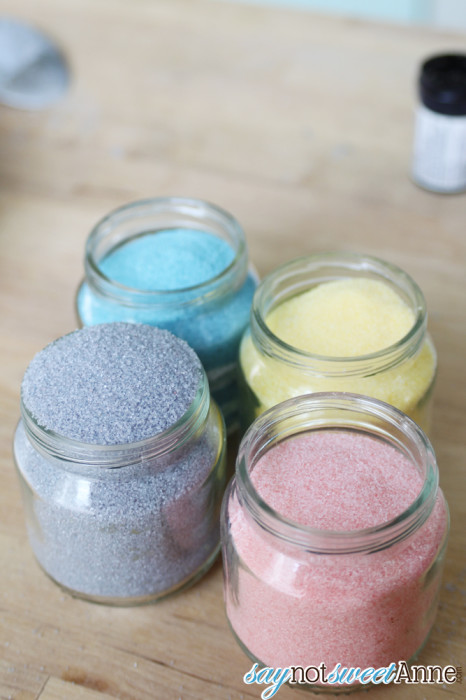 The following two tabs change content below.
Kayla Domeyer
My name is Kayla and I am a Graphic Designer. That means that I love pretty things, and also that I like to make free printables! I'm so happy that you've stopped by to visit my blog, and I hope you will follow me on
Facebook
,
Twitter
,
Google +
,
Pinterest
or
Instagram
!! (Yeah, and I'm totally addicted to the internet).
Latest posts by Kayla Domeyer (see all)