Is it just me or has this weekend been a scorcher!? At least in my little part of the USA. More than that- hubby and I have been at my mom's all weekend- so its been a busy one too! On to the Fave 5!
Having lost my father at a young age, my heart goes out to children losing parents. So, when I saw this cross posted on Dollar Store Crafts, I decided to re-post it with no hesitation. The loss of a loved one is honestly, never easy. And while we all offer our sympathies and murmer words of Heaven as encouragement, but nothing we can say will truly bring comfort.
I have a weak spot for beautiful things that I cannot even conceive of making myself. Beautifully decorated cookies tend to fall into that category. But it wasn't just their stunning beauty- the clever ball jar "Having a ball since…" cookie really made me smile! I love the idea of cookies instead of birthday cake- and that one little detail makes it fitting for birthday. Just lovely!!
I started following this on Tumbler because I just adore nature. Every day I enjoy peeking at the photos added and seeing all of the wonderful snapshots, glimpses of places I've naver been. This week I've been getting into a couple of fantasy books and for some reason this photo just struck me. There is something so innately mystical and whimsical about this scene- its easy to see why for centuries novellists have turned to the subject of magic. I can't imagine standing in this place and not feeling a sense of possibility.
Technically I didn't find this on the internet this week. I found it months ago and printed it, placing it on my office door at work. However, this week was a particularly stressful one as I continue to be harassed by a less than kind co-worker. Every now and then I look up and I see this little poster- which somehow does more for me than any "motivational" poster could. These thoughts are there for me (or anyone else) to take. Its been a welcome relief.
Did I mention it's hot?  =D I think I did. and just LOOKING at this jar, I'm dying to make it. Strawberry lemonade, chilled with ice and a slice of lemon sounds just about AMAZING right now. Plus the lovely presentation and tags makes this a great gift idea for a housewarming or just a neighbor.
So, that's my week in a recap- how was yours?  Oh! And grab a button to show off!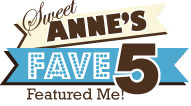 Just copy & paste this code onto your blog!
The following two tabs change content below.
Kayla Domeyer
My name is Kayla and I am a Graphic Designer. That means that I love pretty things, and also that I like to make free printables! I'm so happy that you've stopped by to visit my blog, and I hope you will follow me on
Facebook
,
Twitter
,
Google +
,
Pinterest
or
Instagram
!! (Yeah, and I'm totally addicted to the internet).
Latest posts by Kayla Domeyer (see all)