Happy first Monday in December!! Its one of those amazing sort of months coming up- where joy and goodwill somehow resonate over business that threatens to overwhelm. This week I've got Hubby's work Christmas party, and on Wed I'll be visiting nursing homes with little gifts to brighten their month.
But don't think I've been slackin'! Oh no, I've got a super cute Hard Candy Christmas tree for you to check out, not to mention the Filled Ginger Snaps from last week!
But, enough about MY week. What have you all been up to? I can't wait to see!
This is the third week in a row I'm posting this message, because – despite my best efforts, things aren't really improving.
Last week 88 links were posted. 50 clicks. At least its over half this time, but I still can't believe that all of these wonderful, talented people linking up can't spare the time to look at ONE link each!?
I know that we're all busy, and we see some of the same links at other parties and we might have visited them there. Then please, look for a link you haven't seen and visit. If you leave a comment, you'll even get extra warm fuzzies. Thanks!!
The party is after the features!!
Sweet Sharing Monday Most Clicked:
Ultimate Pumpkin Spice Cupcakes by Couponing & Cooking
Holy pumpkin flavor batman! From Hershey's pumpkin spice kisses to Pumpkin Spice butter spread, these cupcakes are chocked full of pumpkin spiciness! The recipe is quick and easy and pumpkin spice is sure to be a hit for the holidays!
And my Personal Favorite:
I absolutely love little mixes like these. Something sweet, easy to make, that I can wrap up in a little kit and give away for those last minute gifts. I'm in charge of our Secret Santa at work again this year and this is just the thing to have up my sleeve lest I forget to buy something! (The Secret Santa coordinator can't forget! What kind of an example would that be!?)
If you were featured don't forget to grab a button!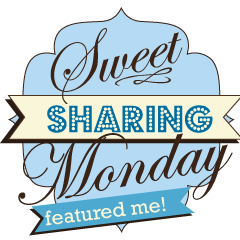 Enough! Let's do some Sweet Sharing!
Don't forget to Check back on Thursday to see which link was the most viewed!
To link back to the party- just copy & paste this code onto your blog!
The following two tabs change content below.
Kayla Domeyer
My name is Kayla and I am a Graphic Designer. That means that I love pretty things, and also that I like to make free printables! I'm so happy that you've stopped by to visit my blog, and I hope you will follow me on
Facebook
,
Twitter
,
Google +
,
Pinterest
or
Instagram
!! (Yeah, and I'm totally addicted to the internet).
Latest posts by Kayla Domeyer (see all)