Today is Thursday. Which means tomorrow is Friday. Which means the weekend is almost here. This has been my mantra for the day. I have SO MANY things going on this week! My boss's boss is retiring, my BFF's Bachelorette party is TODAY and her wedding is this weekend. And so is my cousins. Yeah, wedding conflict makes me sad. I Have to go to the BFFs though because I comitted to hers first- before I knew about the other.
So anyway. Remind me to tell you about the cookie cutters I made from scratch. They were for the Bachelorette party… I don't think pictures are appropriate ;D
Enough about me – onto the praise!
Sweet Sharing Monday Most Clicked:
Simple Homemade Butter – by Rebeka at Potholes & Pantyhose
This is so cool. The idea of making butter really makes my stomach growl. I've been so into dairy products lately you can't even imagine. Moreover, by hubby has been really in to making homemade bread. Do you see a match made in heaven there? Because I do. Rebekah has some of the best ideas and her band stories are so cool!
And my Personal Favorite:
How to Prevent Your Photos From Being Pinned – by Jessie at  Practically Functional
At first glance, I wondered why anyone would want to prevent photos from being pinned. Then the idea of family members and important copyrighted materials made me stand up and take notice. I had no idea that these HTML codes existed, but now I think I'm going to make a special style on my site so I can easily tag images as non-pinable. Okay, that's probably too much of my Web Designer speak but if I figure it out I'll share with you all and Jessi. In the meantime, have a look at this post and book mark it. Its so easy and might save you a headache!
If you were featured don't forget to grab a button!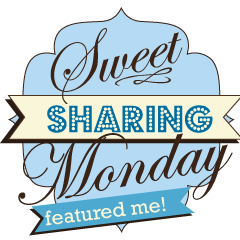 The following two tabs change content below.
Kayla Domeyer
My name is Kayla and I am a Graphic Designer. That means that I love pretty things, and also that I like to make free printables! I'm so happy that you've stopped by to visit my blog, and I hope you will follow me on
Facebook
,
Twitter
,
Google +
,
Pinterest
or
Instagram
!! (Yeah, and I'm totally addicted to the internet).
Latest posts by Kayla Domeyer (see all)