Hey everyone! I'm still in Chicago (actually in the conference supposed to be listening right now…shh! Don't tell!) but I haven't forgotten about you! Things have been hectic, running around to different hotels and attending the conference classes- but that doesn't mean there hasn't been any down time. And while the Hotel's wireless suX0rz, I've still had a chance to look through all of your beautiful links. Thanks for the pick-me-up!
Now onto the praise!
Sweet Sharing Monday Most Clicked:
The Night Circus Cookies – by Jennifer at Not Your Momma's Cookies
The Night Circus is a 2011 fantasy novel by Erin Morgenstern, or at least that's what Wikipedia says. I have to say that I have not read it. But obviously you all have, and that doesn't stop me from loving these cookies! I love all the drama of the white and black and red. (Not to mention I love pretty much everything Jennifer does.)
And my Personal Favorite:
Military Frame – by Shatzi at Love and Laundry
I love this idea, firstly because its beautiful and its a great message. Secondly because its very much like my family tree project, only one step further with etching! The result is obviously so beautiful, and would be a wonderful gift, or a keepsake for a loved one. She did such s great job!
If you were featured don't forget to grab a button!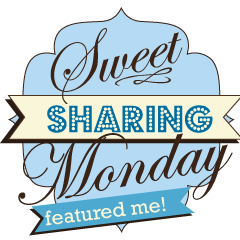 The following two tabs change content below.
Kayla Domeyer
My name is Kayla and I am a Graphic Designer. That means that I love pretty things, and also that I like to make free printables! I'm so happy that you've stopped by to visit my blog, and I hope you will follow me on
Facebook
,
Twitter
,
Google +
,
Pinterest
or
Instagram
!! (Yeah, and I'm totally addicted to the internet).
Latest posts by Kayla Domeyer (see all)